I'm like a lot of others who long for fall when the weather changes and you feel that cool breeze in the air. Growing up in Connecticut I definitely took advantage of the fall foliage and did all of the apple and pumpkin pickings and leaf gazing that I could. For about 10 years I lived in the Carolinas, where we had "fall" but it wasn't quite the same. It got a little colder, the leaves eventually changed and then got a little rainier. Now, living in Florida, I do miss the fall and writing this I have my air conditioning running while I sip my iced latte because it is still 90 something degrees out!
This season I wanted to accept the color orange because I'll be honest, I think its one of my least favorite colors and incorporate it on my front porch. I used a variety of gords and pumpkins and painting them either white, or navy blue, and added some touches of gold throughout. The mums I used were from your regular garden store and the pots they are in are such a simple DIY that I'll post later!
I will also be posting another fun pumpkin carving DIY later on in the month so keep a lookout for that!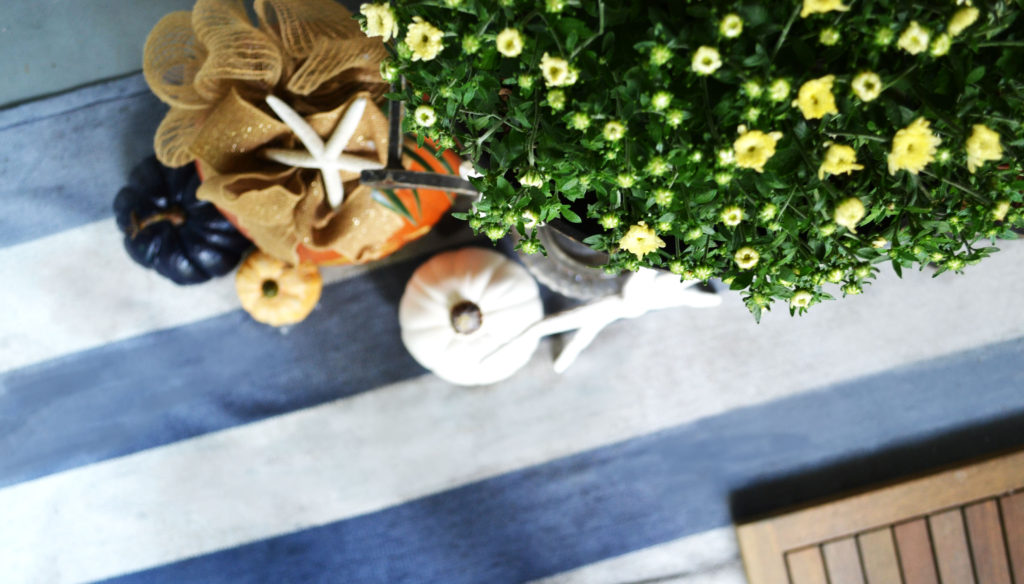 Our porch is a little bit tricky to decorate because not only do we have our front door, there is also a door adjacent to it to get into the garage, and a window that is for the laundry room. Eventually, I would love to do something to that window, and maybe even add a porch swing.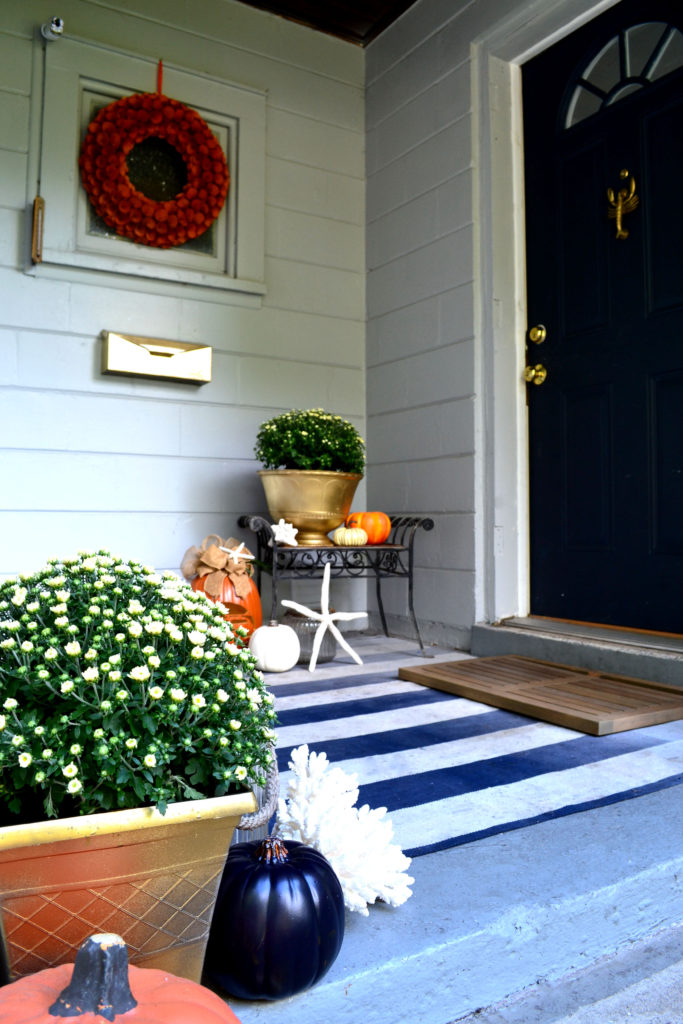 Did you notice our door knocker? Its one of my favorite things on the entire house. My husband helped me pick out and he lovingly named it "larry the party rocker door knocker"! Our front door is painted the same color as our back door and fence. A lot of people tend to overlook their front door but it says a lot about a house, and navy is a great neutral that most people tend to shy away from because it's so dark, but when its done in the right shade it can look fantastic!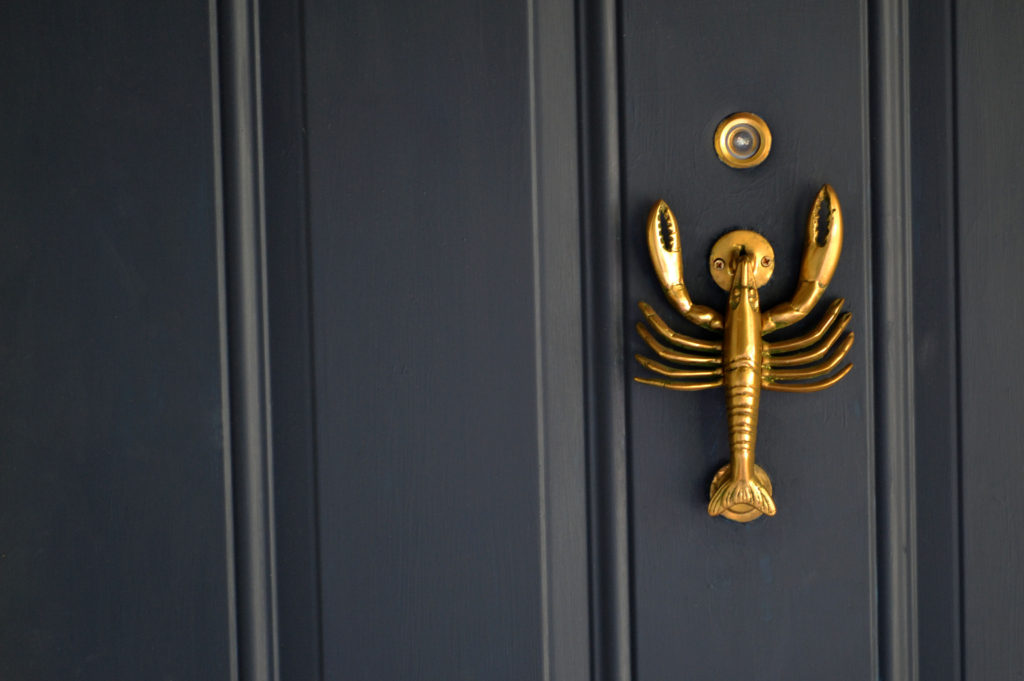 Taking a look on the inside of the house, I carried the blue, brass and neutrals throughout. I used more faux gourds & pumpkins with my brass pineapple candle holder! Who doesn't love a good pineapple!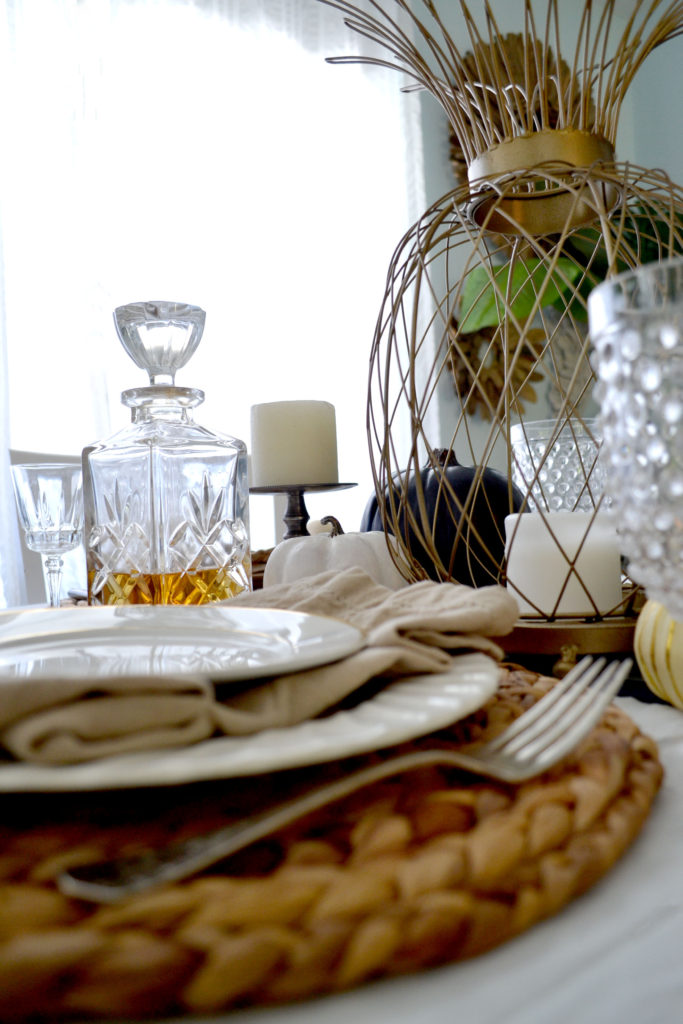 I couldn't resist getting an aerial view of this beauty. The pineapple looks so fantastic from this vantage point don't you think? I love the mixture of the vintage glassware and the rustic banana leaf placemats.
I think people tend to underdress table nowadays but boy do I love a fancy table setting. If you're looking for a similar look, my biggest advice to you is don't forget to layer. On this table, I used a white table cloth, some ribbon in different shades & thicknesses of blue, placemats; and then the plates, napkins, and silverware! Layering is half the fun- just take your time and think about what you can add next!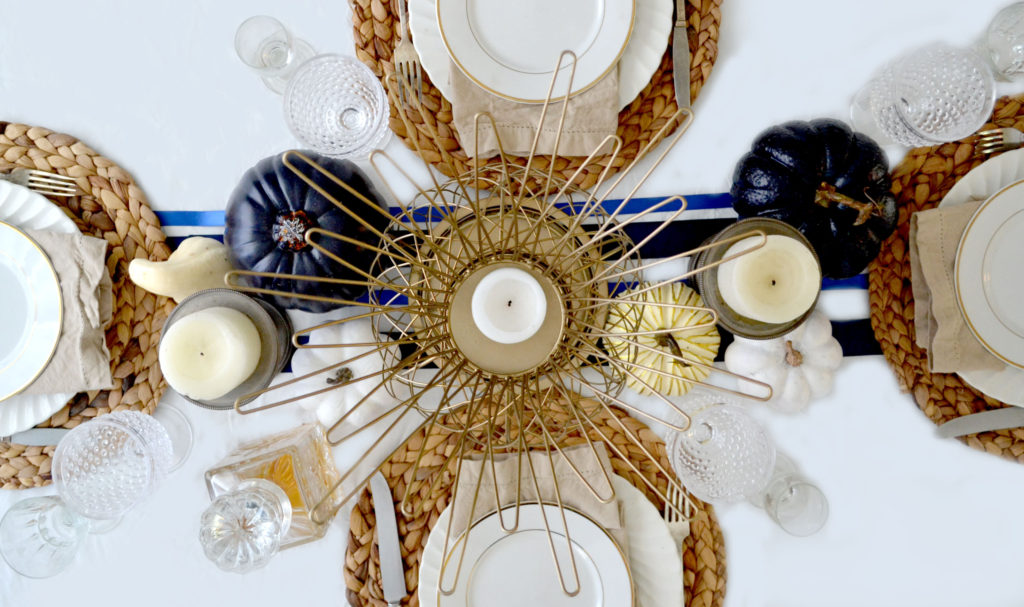 Lastly, on my antique railroad tie coffee table, I have this fantastic clam shell bowl. Instead of storing it away I put in some of those pumpkins and gourds again! I didn't feel the need to change out the pillows, I just made sure the new decor items coordinated.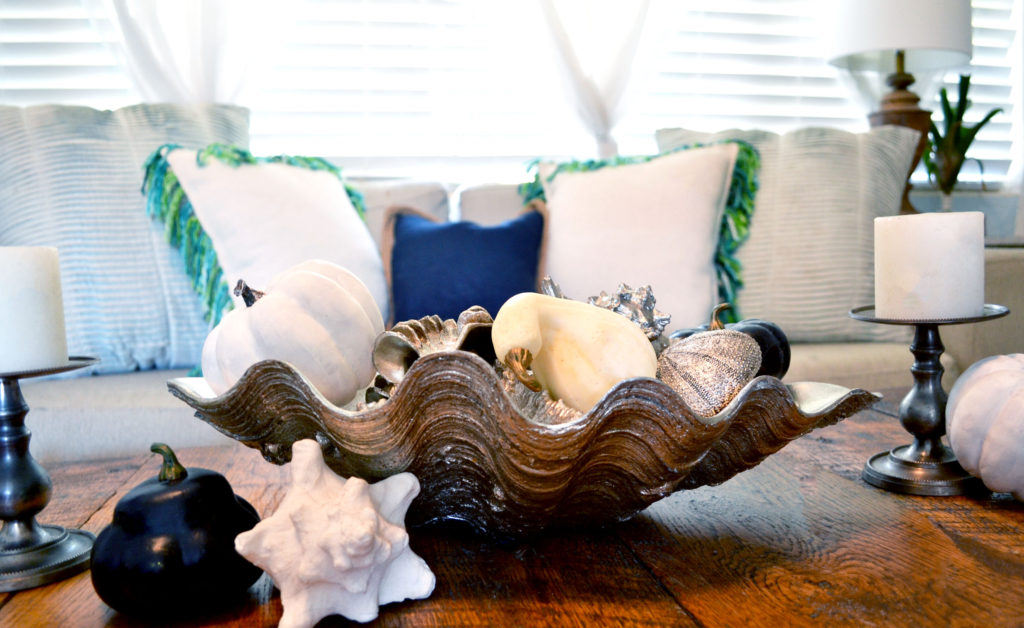 Although it doesnt feel like fall where we are, how does it feel where you are? Are you ready for fall festivities? Have you every decorated for fall with a coastal flair before? Tell me all about it!
Thanks for reading!!