First, I want to thank the One Room Challenge team for postponing last week's ORC. It is so imperative to realize the importance of these moments in time and be on the right side of history. My little mixed family really does appreciate the outpouring of love. So thank you all again!
Week 1 | Week 2 | Week 3| Week 4| Week 5 & Week 6 | Week 7 |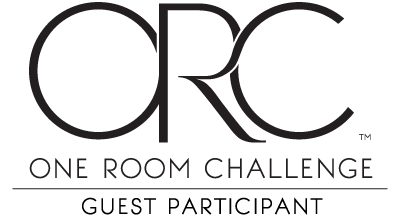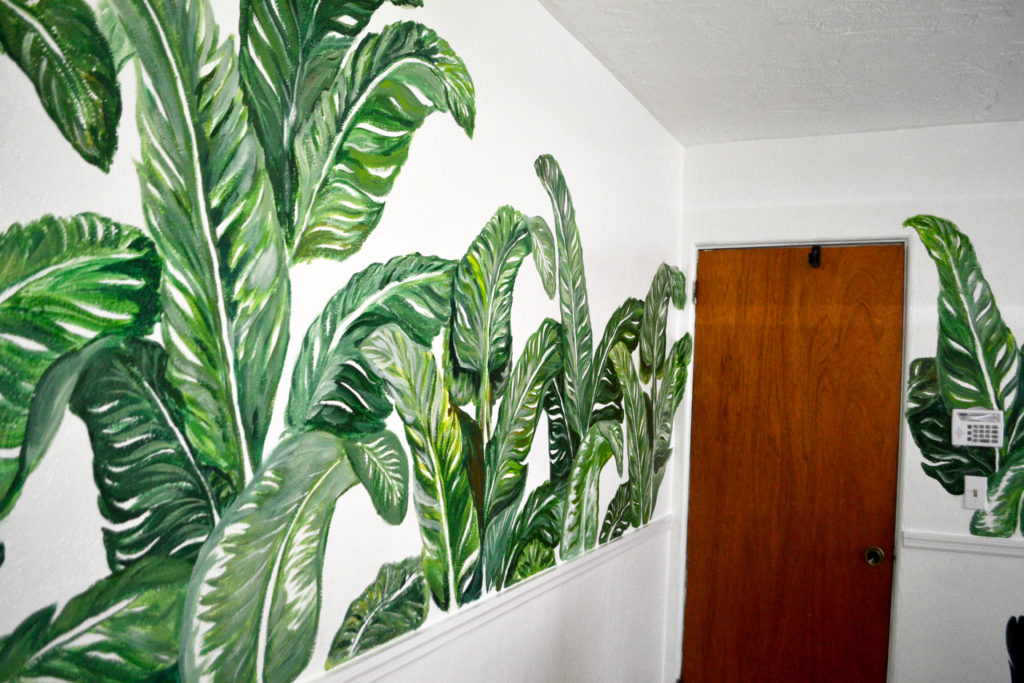 The Headboard & Bench
If you can remember, the other week I was telling you about finding a different headboard for our room. I finally find one, and I really love it. Unfortunately, I'm not the best at taking pictures of my stuff as I do it (I'm working on that) so I don't have pictures fixing or installing it. I found this solid wood & cane headboard on a Facebook marketplace for $30.00. It was painted tan, so I lightly sanded it and painted it the same color white as the rest of the room (simply white by Sherwin Williams). I cut and painted two 1×4 "leg" pieces, mounted the legs to the headboard, and then lastly, mounted the entire piece to the wall.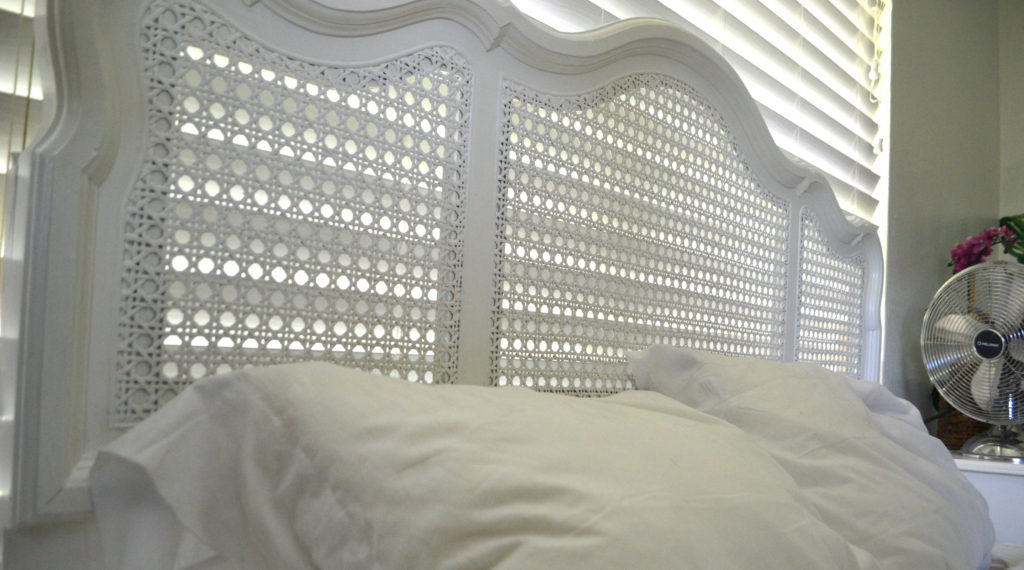 For the end of the bed, I repainted and upholster the cedar chest that we already owned. I choose this fun greek pattern fabric in tan and white, to add some geometric elements into the room. This helps break up the organic pieces like the mural, as well as all of the white. I've had this Cedar chest for years, It's nice and deep (additional storage!!!). In order to soften it up a bit, I added some foam and batting. Now, when you sit on it, it's nice and comfortable.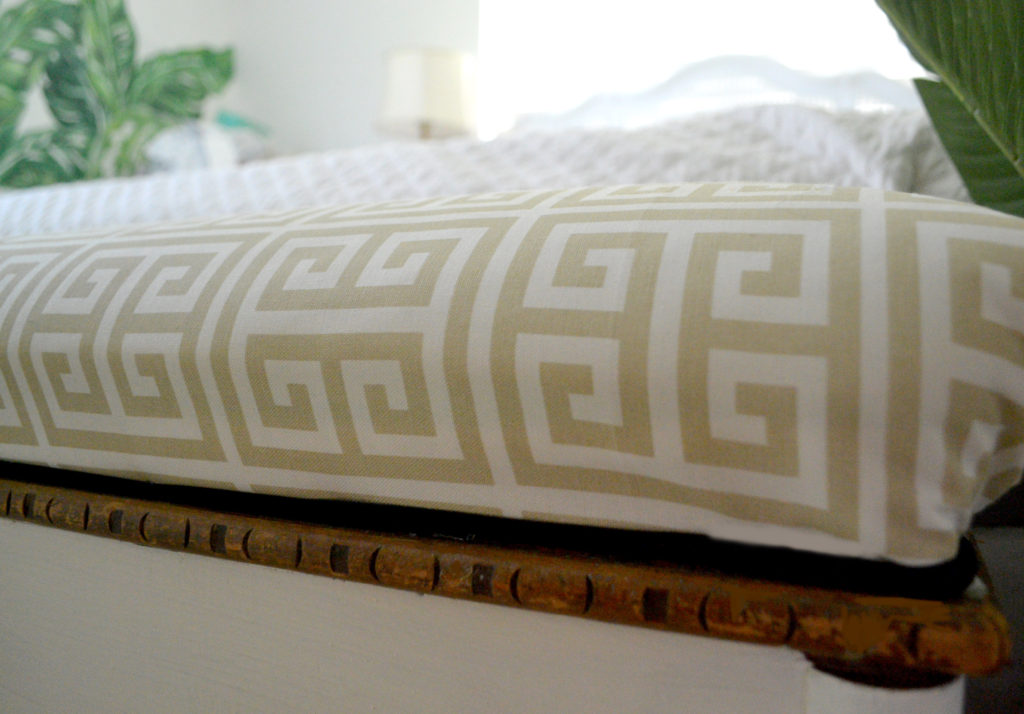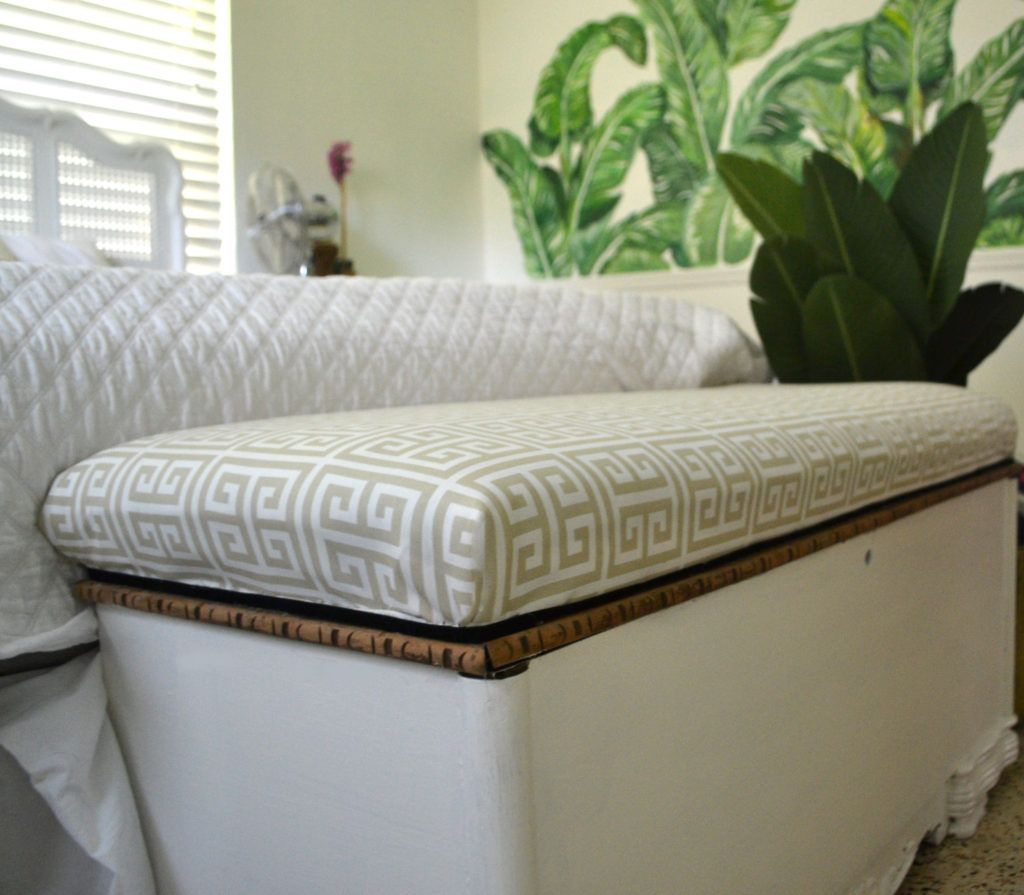 The Mural
Sooo… I know why you're really here, you're waiting to see my mural! I've posted a few sneak peeks on Instagram! This took me a little longer than usual. Typically, my murals take a day or two, this one took me 3 days! Phew! I love love love the Martiniqueque wallpaper in the Beverly Hills hotel. Its so iconic and just packs a huge punch. Soo…I painted my own version in our room. Ours walls our pretty textured so making sure the colors looked continuous was really important.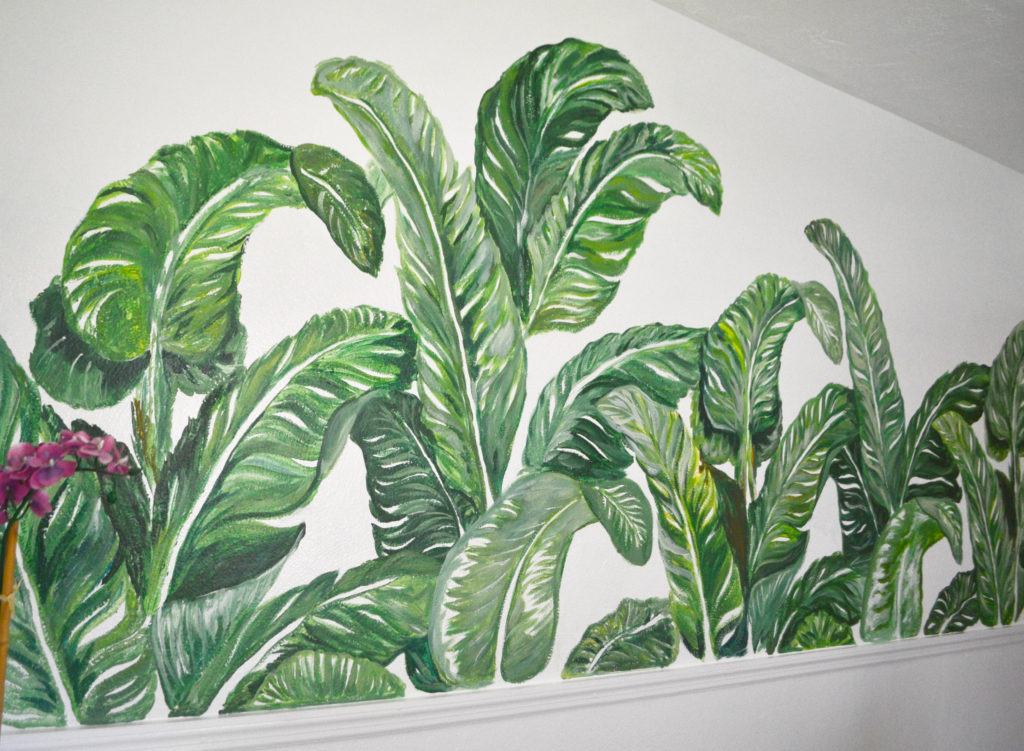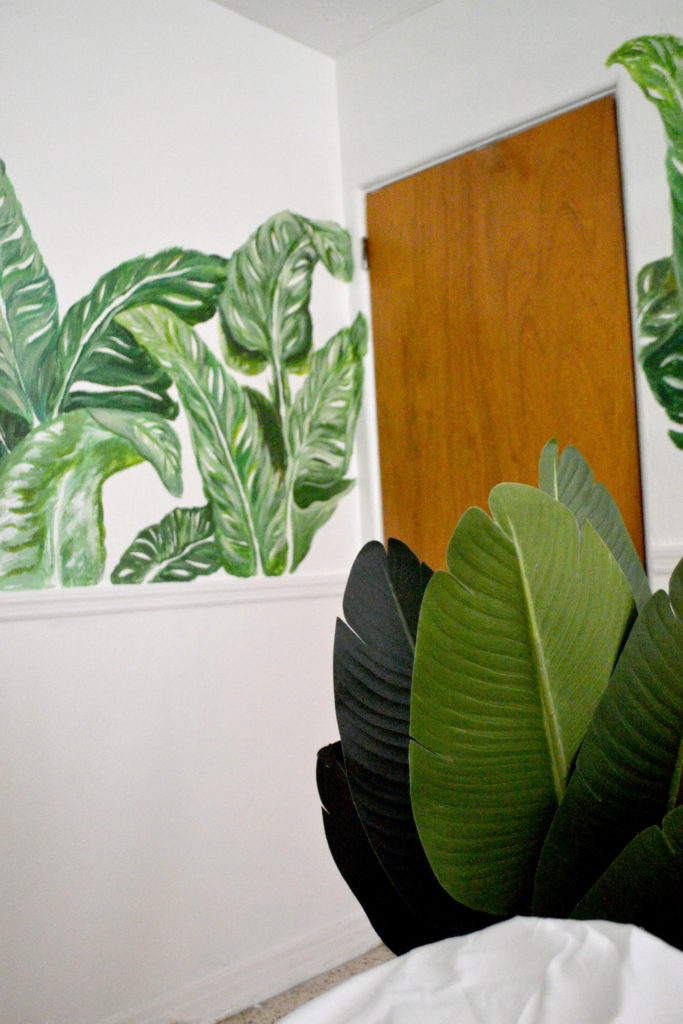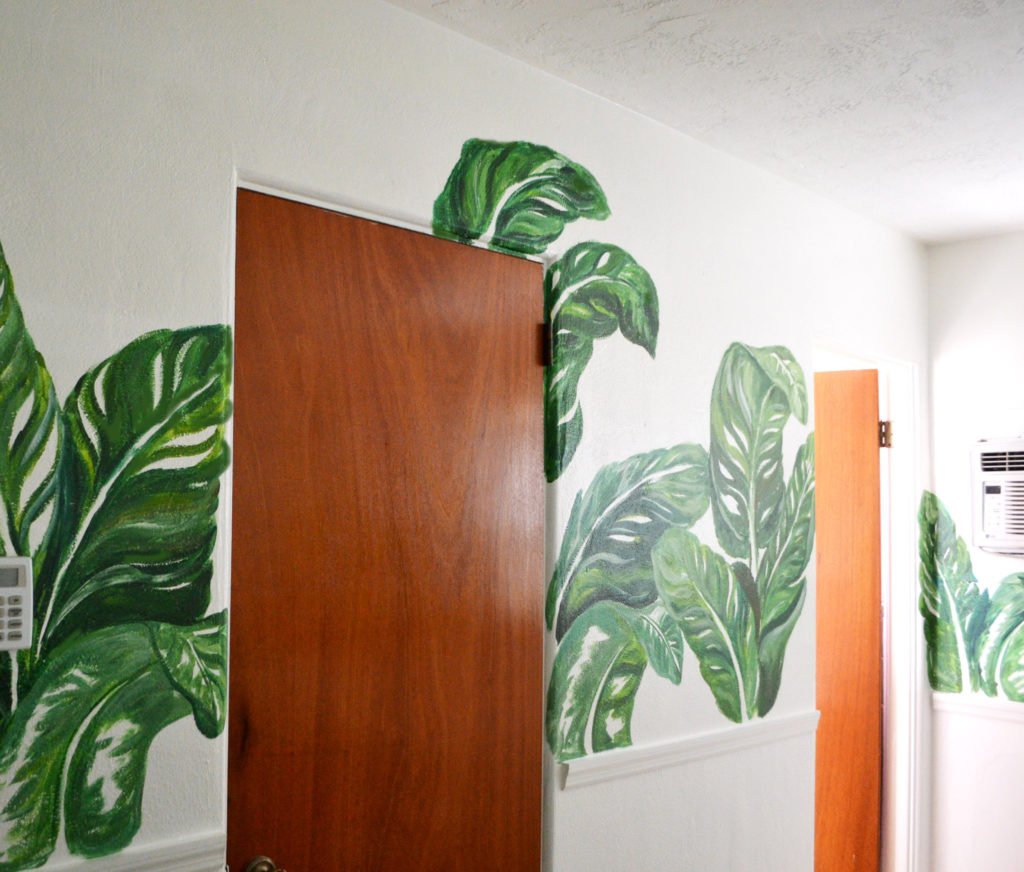 Do you guys think I should have used the wallpaper? Left it white? I love to hear your opinions!
What's left on my punch list??
Make and install bookshelves
Bookshelf Lighting
Lighting/Fan install
Curtain/rod install
Custom pillow shams (almost done)
Decorate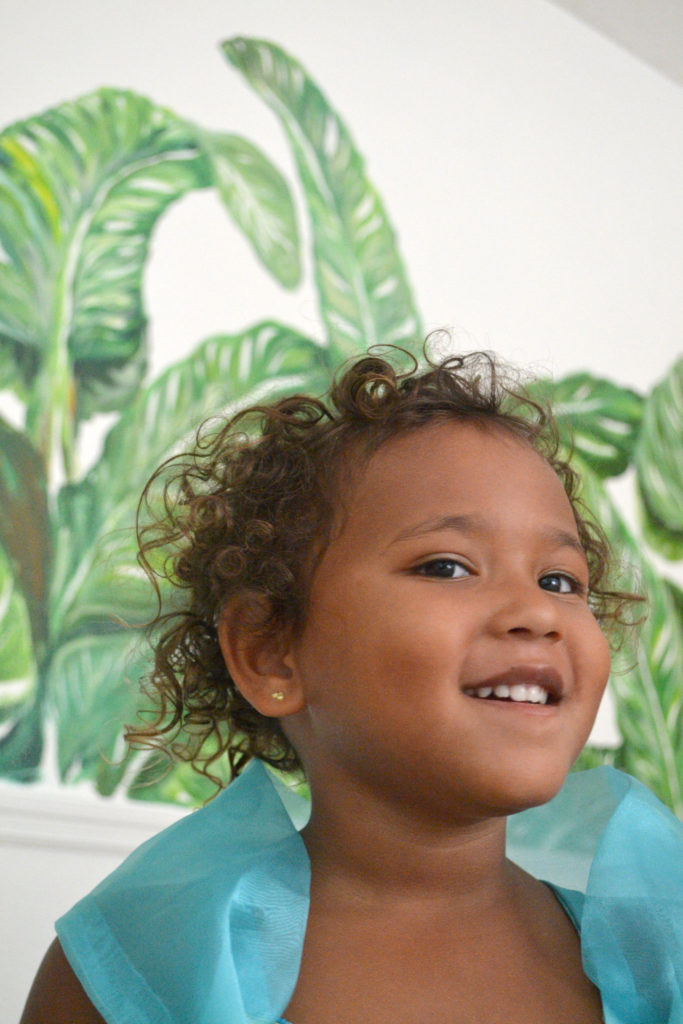 It's fun trying to get all of this done with a three-year-old (dressed as Jasmine most of the time) who just wants me to play with her. Thankfully, because we have some extra weeks this year, I don't feel as rushed to finish. Thank you so much for following along with me! This is going to be a busy week, knocking out these bookshelves and getting everything back together! Wish me luck; because I know I'll need it.
Make sure to check out what the other participants are up to here!
Don't forget to follow along with me on Instagram!
Have a great week!