The time has finally come, after months of renovations, tears, frustrations & excitement, our backyard is finally finished!
Slowly but surely I'll be posting more about our little beach ranch house that we got for a steal a few years ago, but this post is specifically for our renovated backyard!
(I'll be adding updates about all of the little projects we did like the shower, refinishing our  teak furniture, creating an outdoor solar chandelier and much much more!))
Now for further ado-
Here is the before, we had a cinderblock wall that was dangerous and very unsafe for a 1.5-year-old. It blocked the majority of our yard and let's be honest, it was a real eyesore. It was dingy, moldy and shockingly enough when it was taken down there was NOTHING keeping it concreted to the pool surround! How dangerous is that!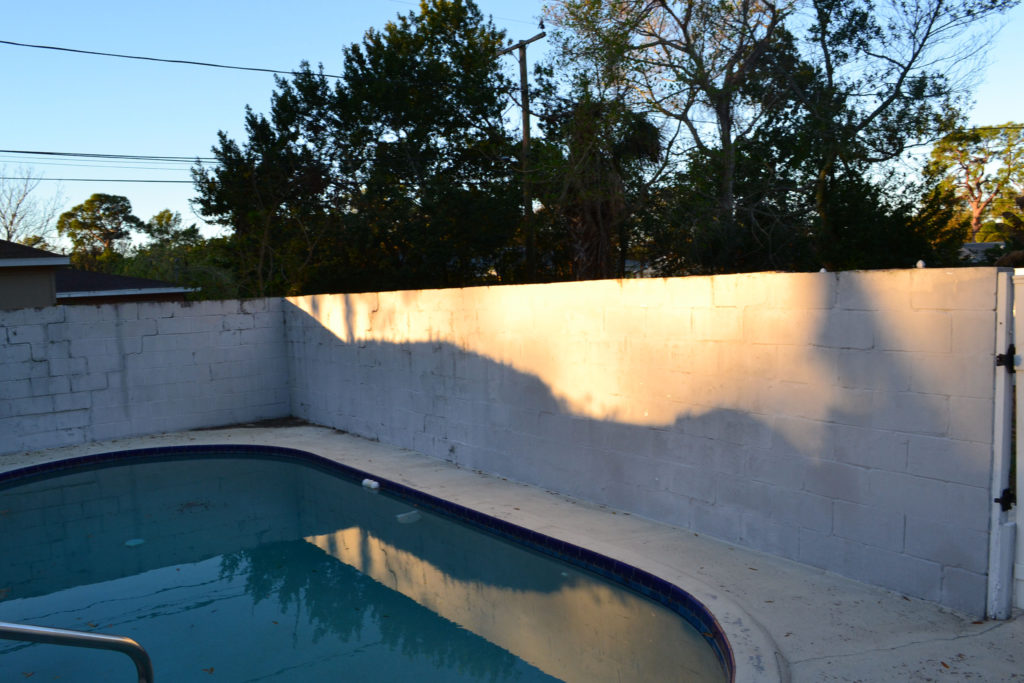 After the wall came down, we had to quickly finish installing our fence for safety reasons because of the pool. Our fence guys were fantastic and after about 3 days, we had a custom built fence!(notice the top trim piece-Its one of my favorite touches!)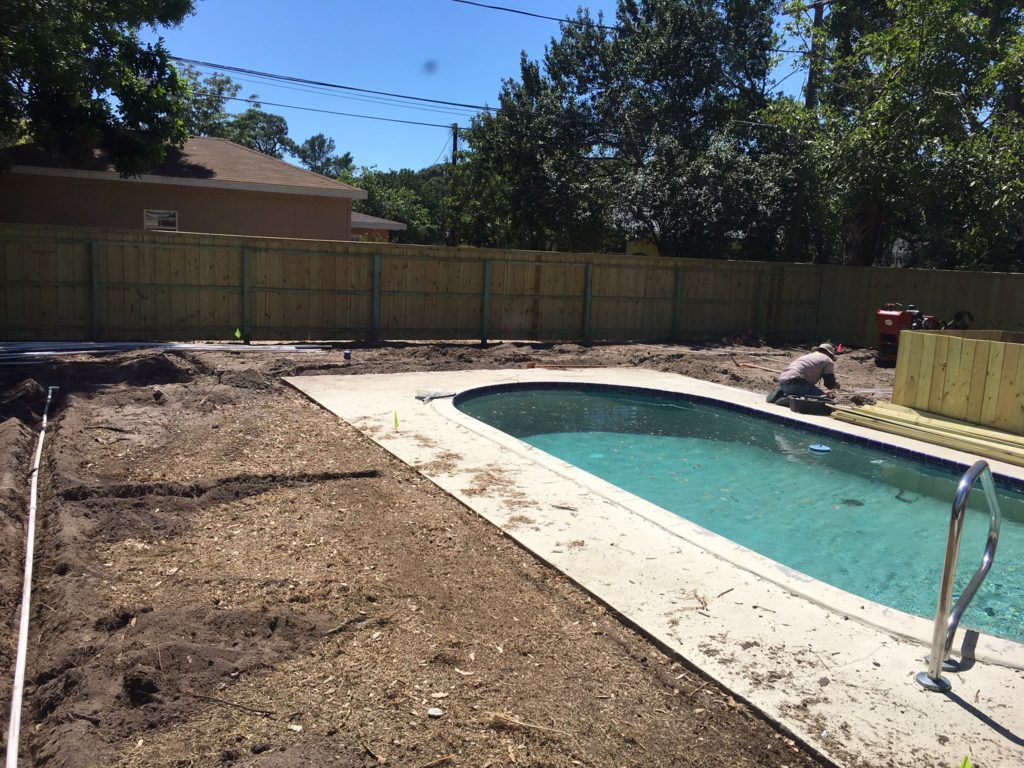 After a few months, once the fence was cured, we painted it a color called "polo blue". Everyone we talked to thought I was crazy for wanting to paint our fence such a dark color but their were several reasons I just had to go navy. The aquifer here contains really high levels of iron, and stains everything a rusted color. Anything light would show right away and look dingy. Secondly, I love navy. Its one of my favorite colors and I knew once we had the grass installed the shades of green would compliment the blue, creating my desired look.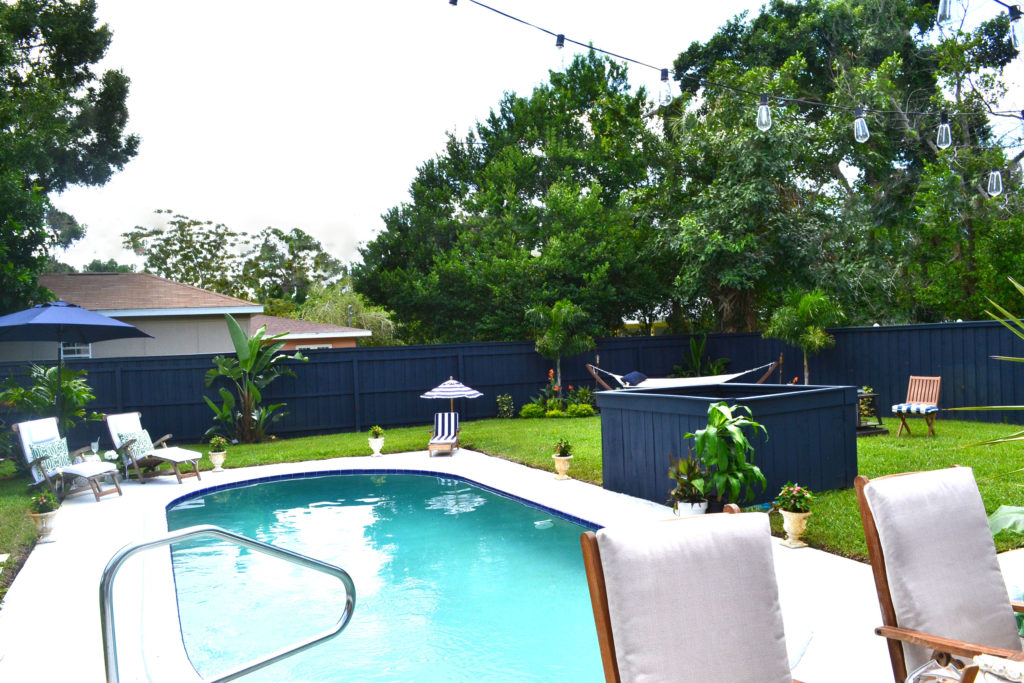 Here is another before pictured below. We actually started with some iron tables and chairs, I've had them for years so we decided to upgrade! I found this gorgeous teak table and chairs AND two chaise lounges  (which are pictured later) used online and we restored the teak and absolutely love how they came out. We saved thousands of dollars by buying these used.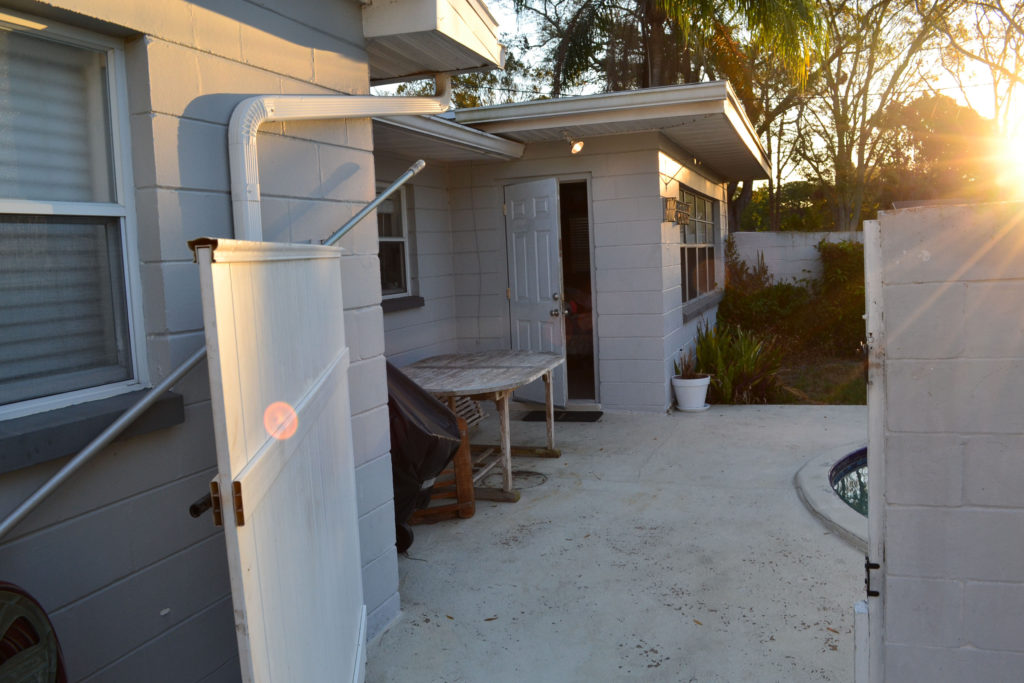 Here is the after, with the refinished teak and new outdoor shower! Perfect for those long days at the beach!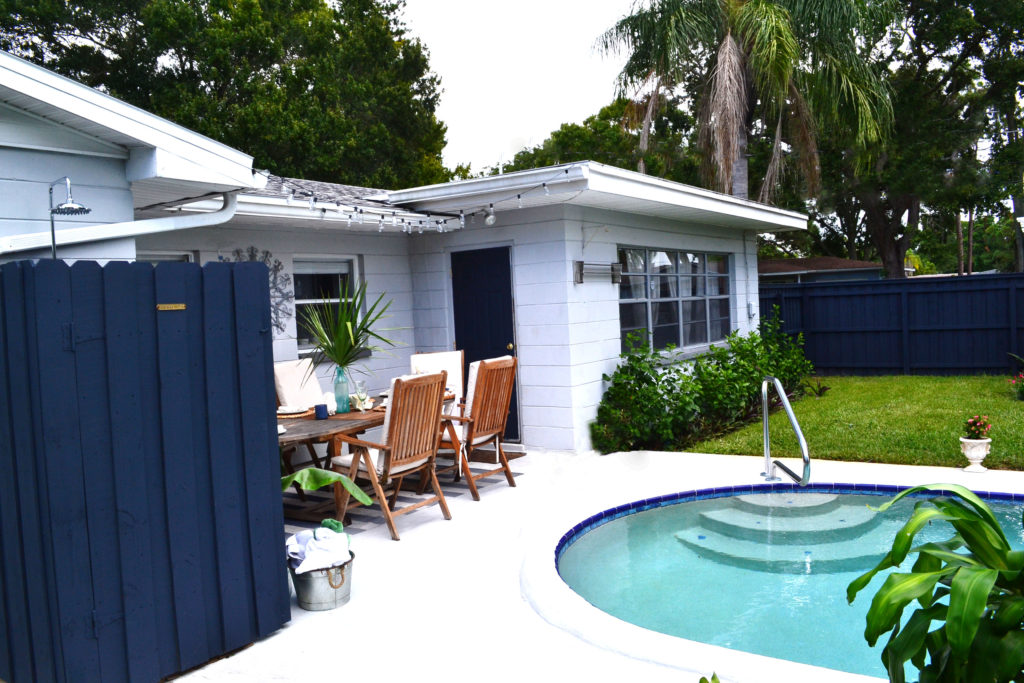 Eventually, we're going to have hot water added outside- its great now for in the summer, but I was able to get this awesome shower on Pottery Barn.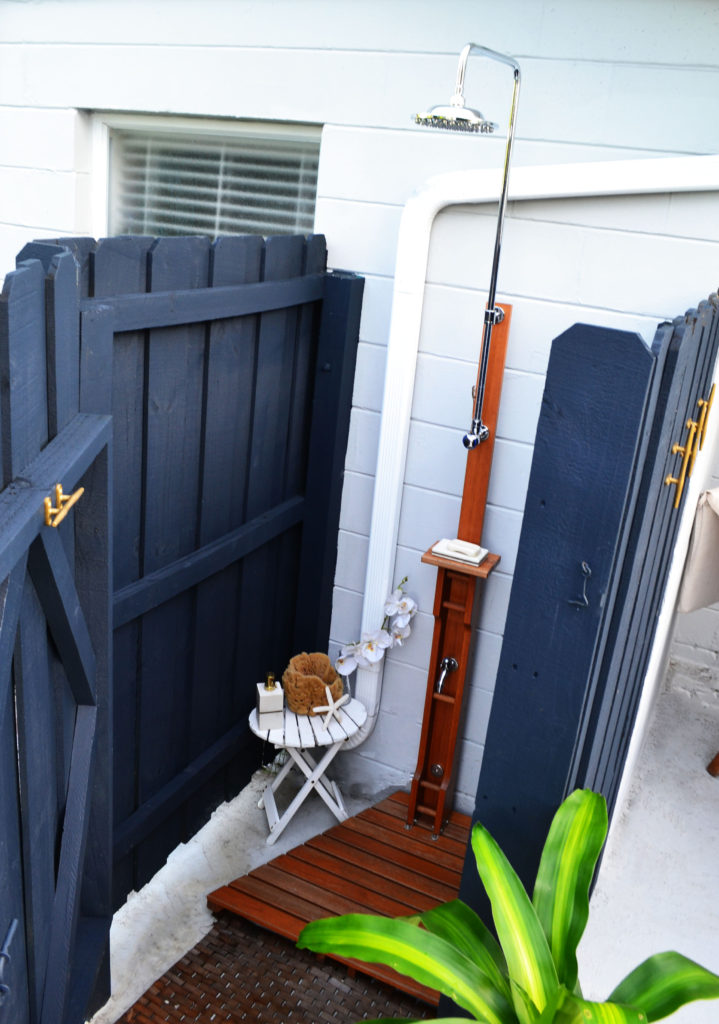 We thought the shower was a perfect place to add some brass cleats to hang towels, and bathings suits!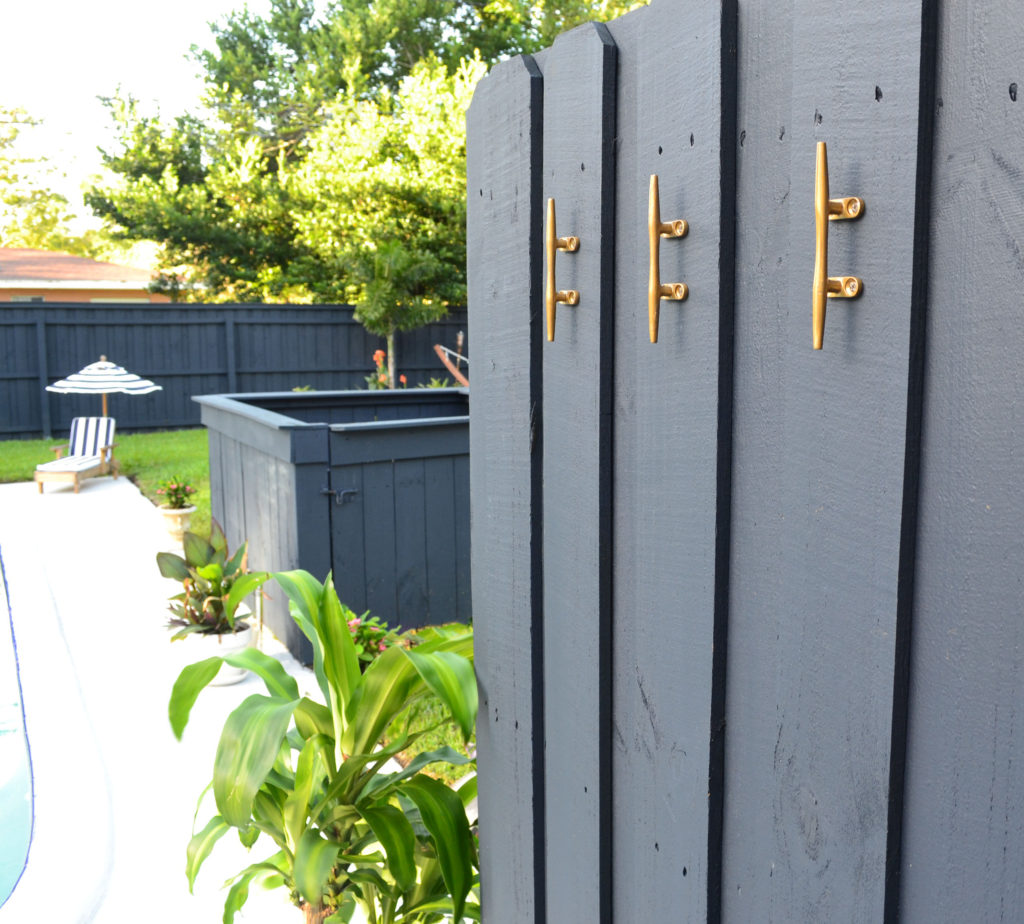 Hanging lights above the table & palms in a sea glass vase make a perfect setting for a day with family outside. We were able to find these awesome lights at Target!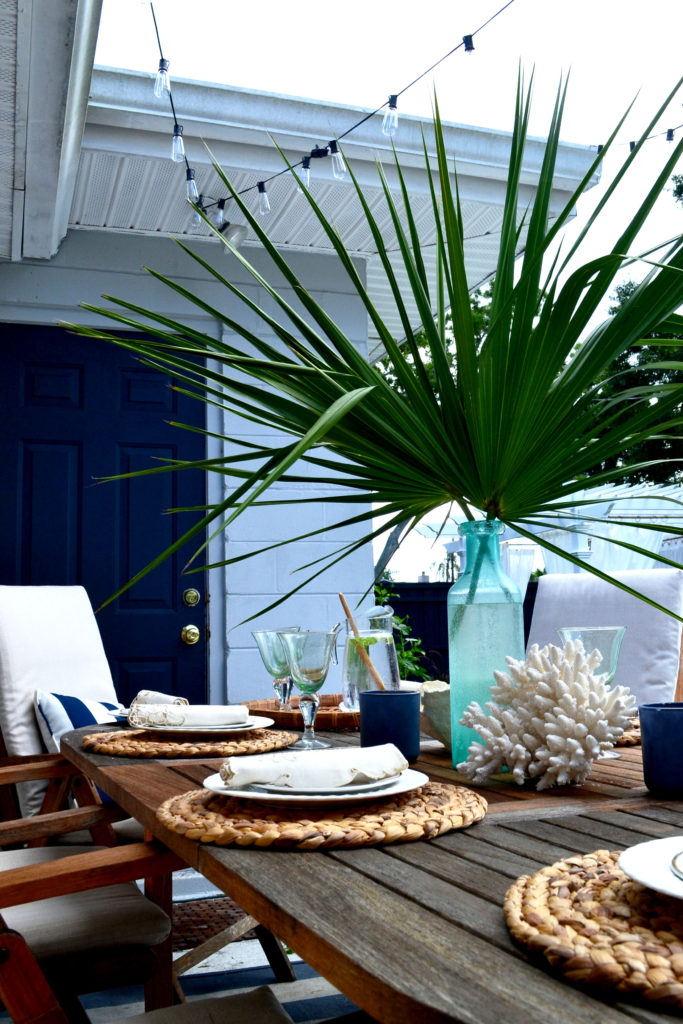 Once the wall finally came down, we had ample room to add a hammock, we eventually added lush tropical plants, all underneath some foxtail palm trees.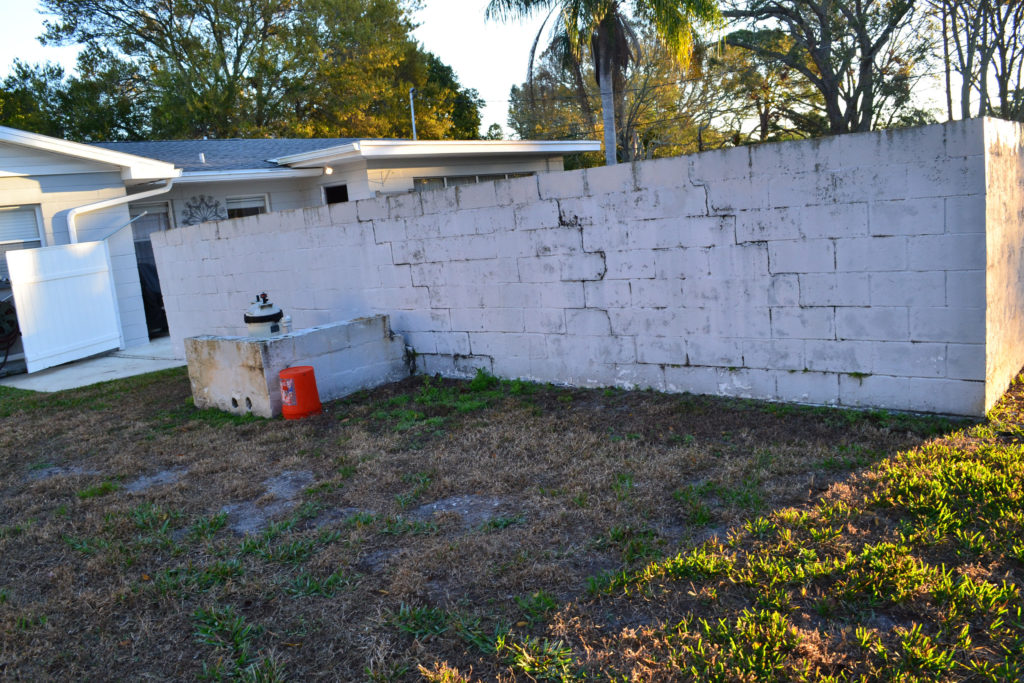 It was amazing for us just to see how much more room we had, but also how much landscaping we had to do!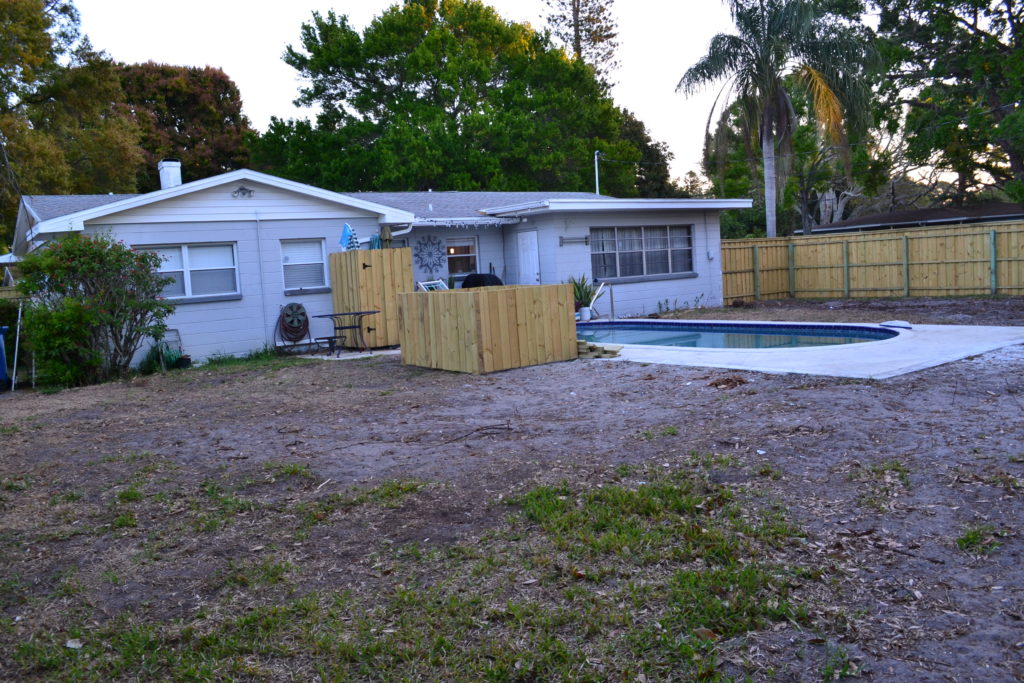 I think the view from this hammock is pretty perfect now that its all done!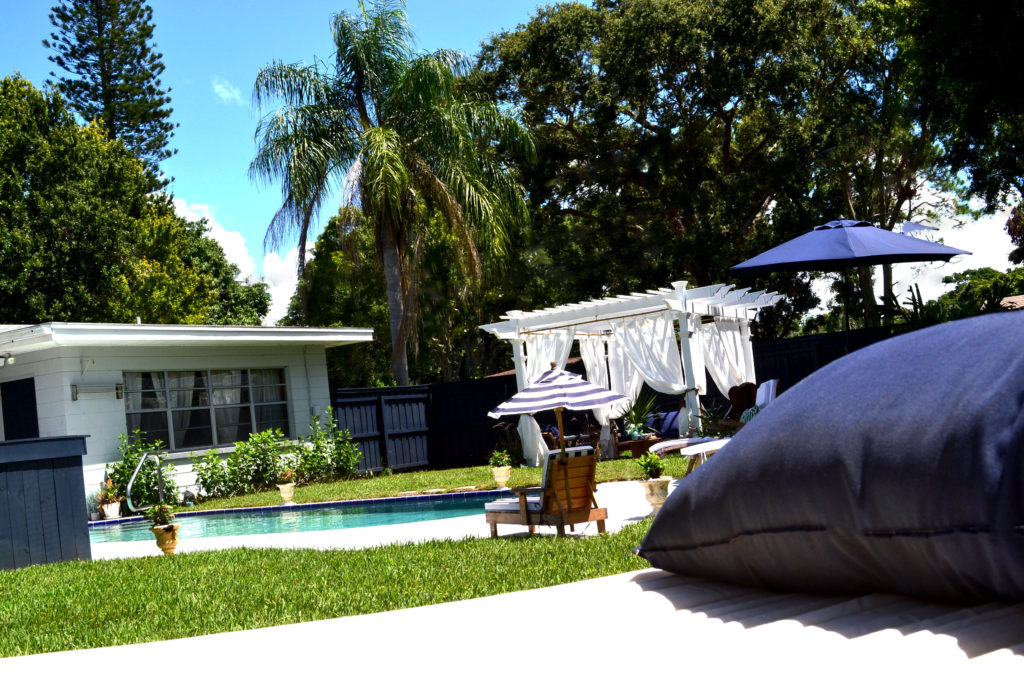 One of my best friends even purchased these foxtail palms for us as a gift! How beautiful are they!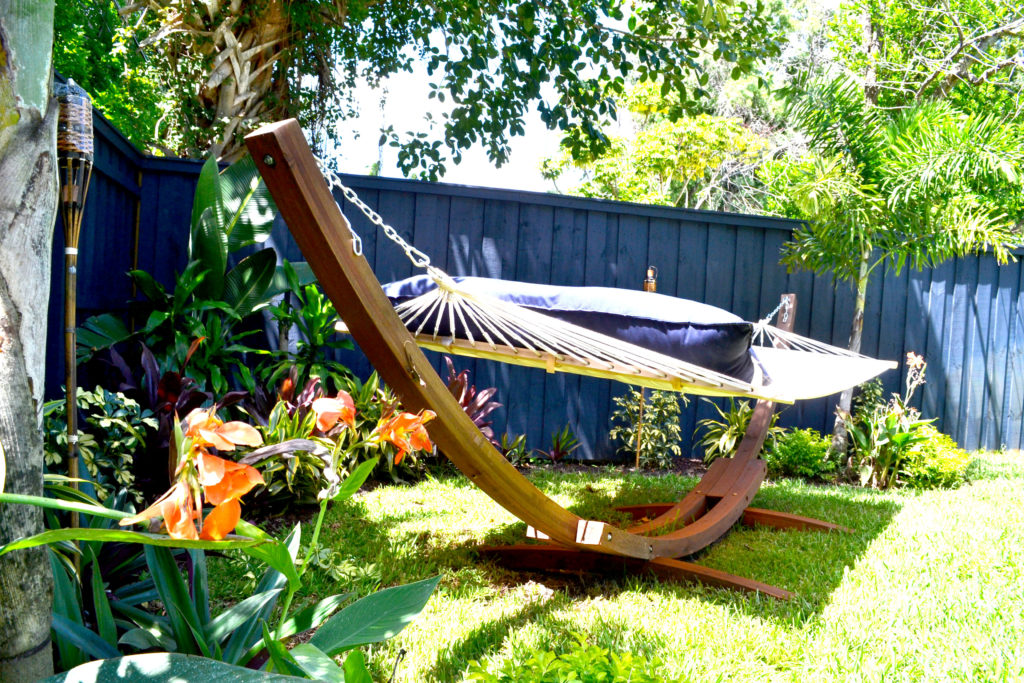 Looking at the house from the back of the yard, we had to figure out where everything was going to go. We decided for safety reasons to add a "box" around the pool equipment so our daughter couldn't get to it and hurt herself.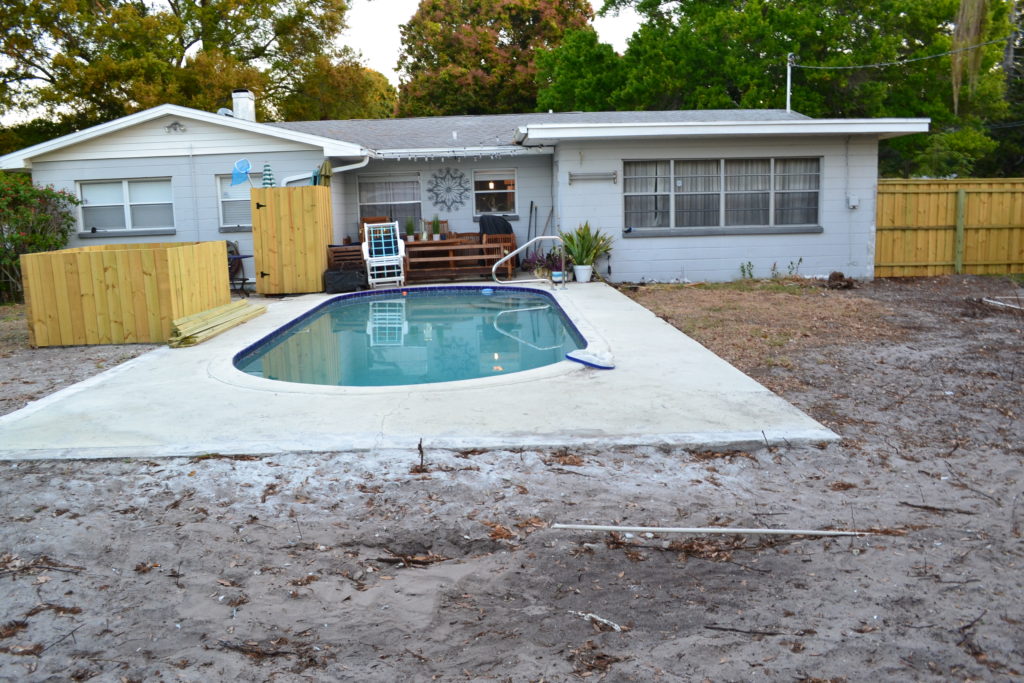 We just love how it turned out!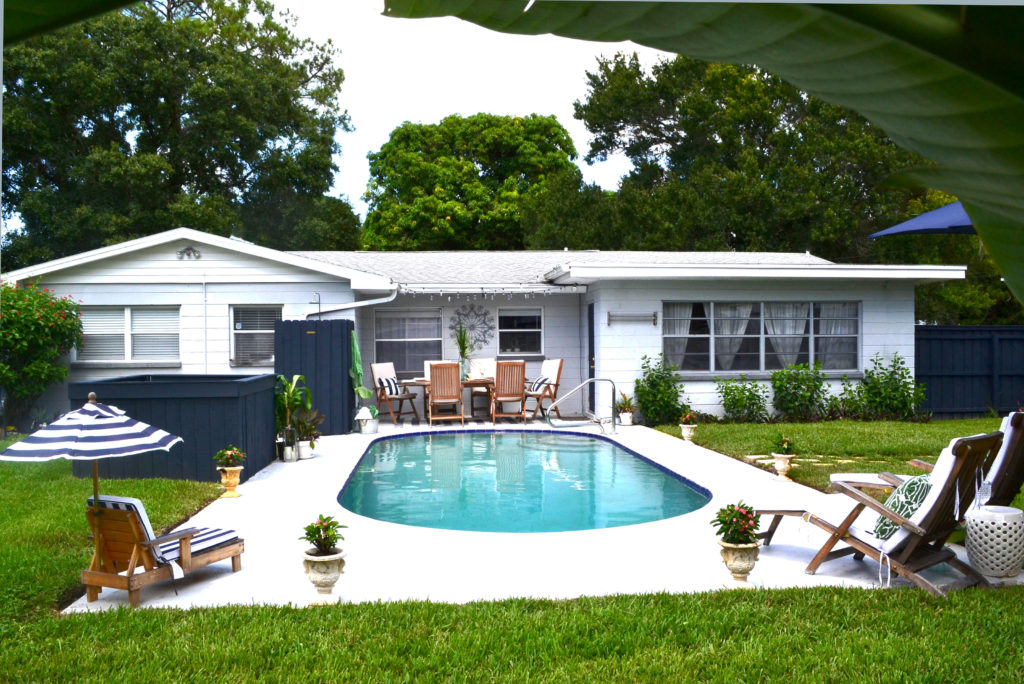 This is the corner where the boat now lives.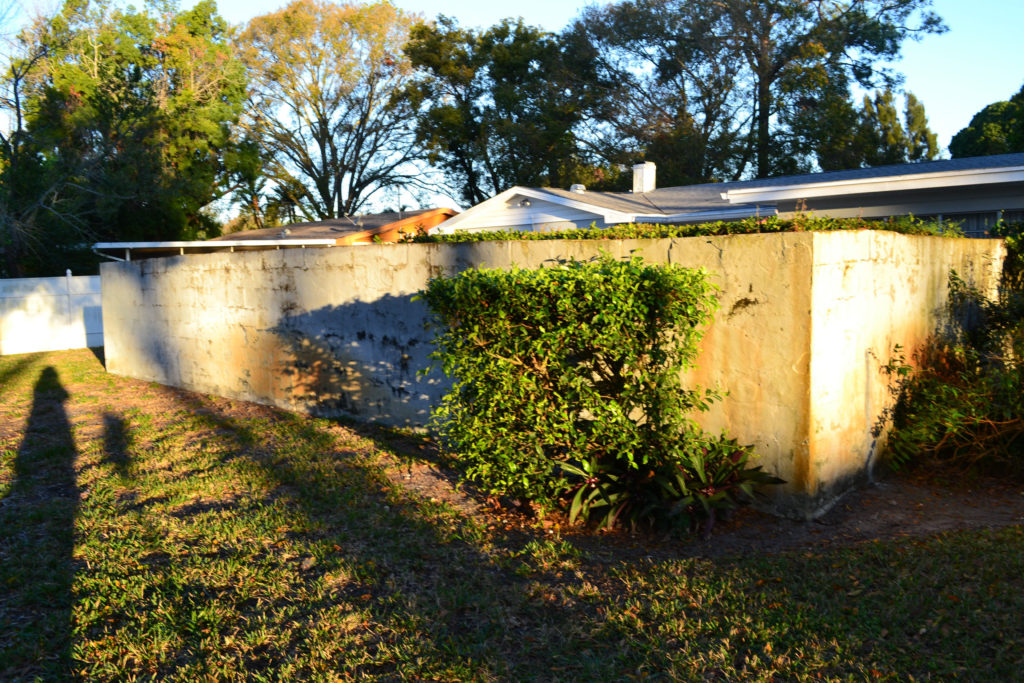 There is enough room for everyone to have their own space or hang out together. I think we just need a croquet set!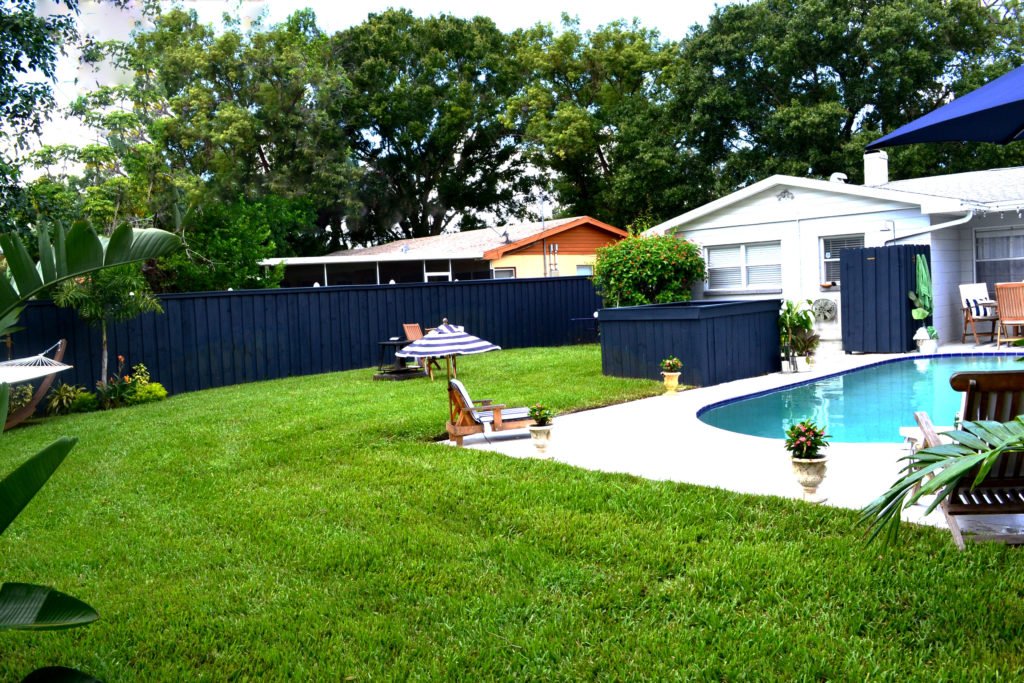 Because we have a neighbor on the right side of our house, we were able to have the "pretty side" of the fencing face us.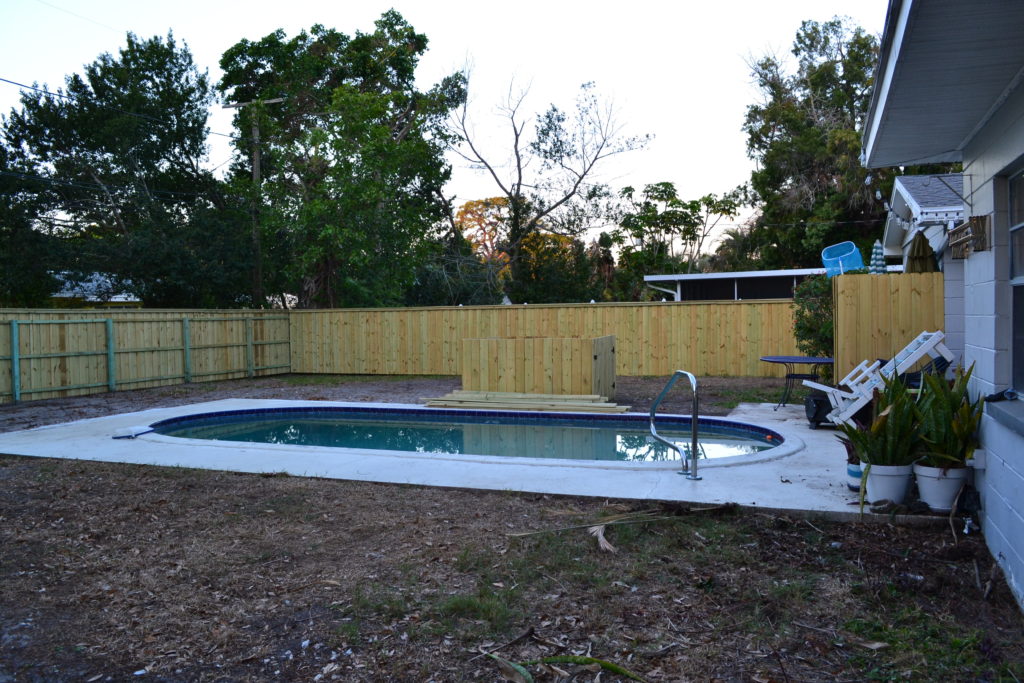 But if you ask me, I think it all looks pretty spectacular!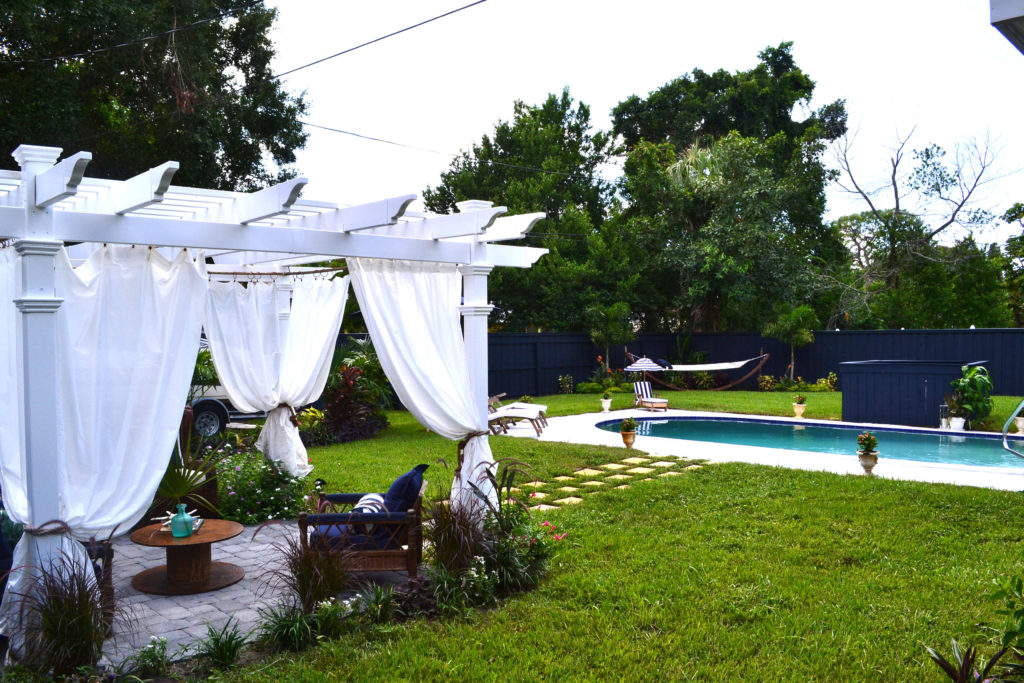 I am in love with this pergola, it was one of the last things finished and it was a labor of love by my husband and I. This pergola is a kit that you can buy, it comes in a bunch of sizes so make sure you purchase one that you are allowed to put up according to your area's codes and laws. In another post, I'll show you how I added curtains for super cheap, and even made an outdoor chandelier for under $10.00-no electricity required!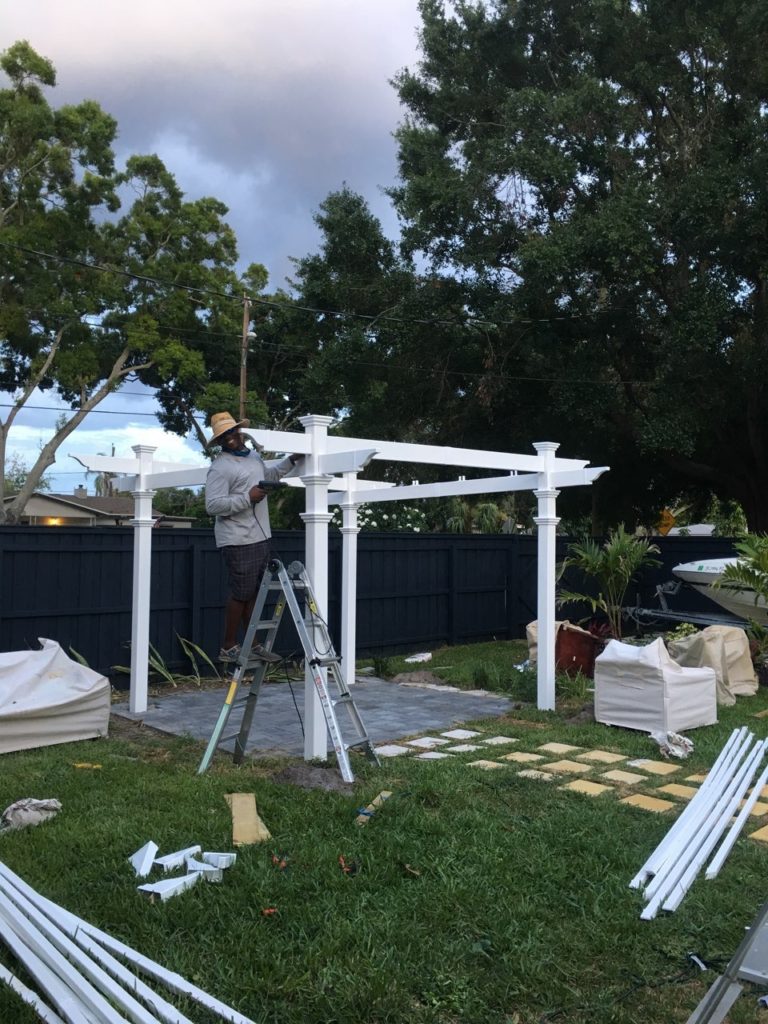 Can you believe we only spent $30.00 on all of this furniture?? The sofa and matching chairs were $30.00 and the matching set of banana leaf high back chairs my neighbor was just giving away!!!! I already had the spindle wheel- but I'm also pretty sure you can get those for free (like on the side of the road?!) I keep everything in outdoor covers from Amazon until we are ready to use it, just so that it stays nice looking.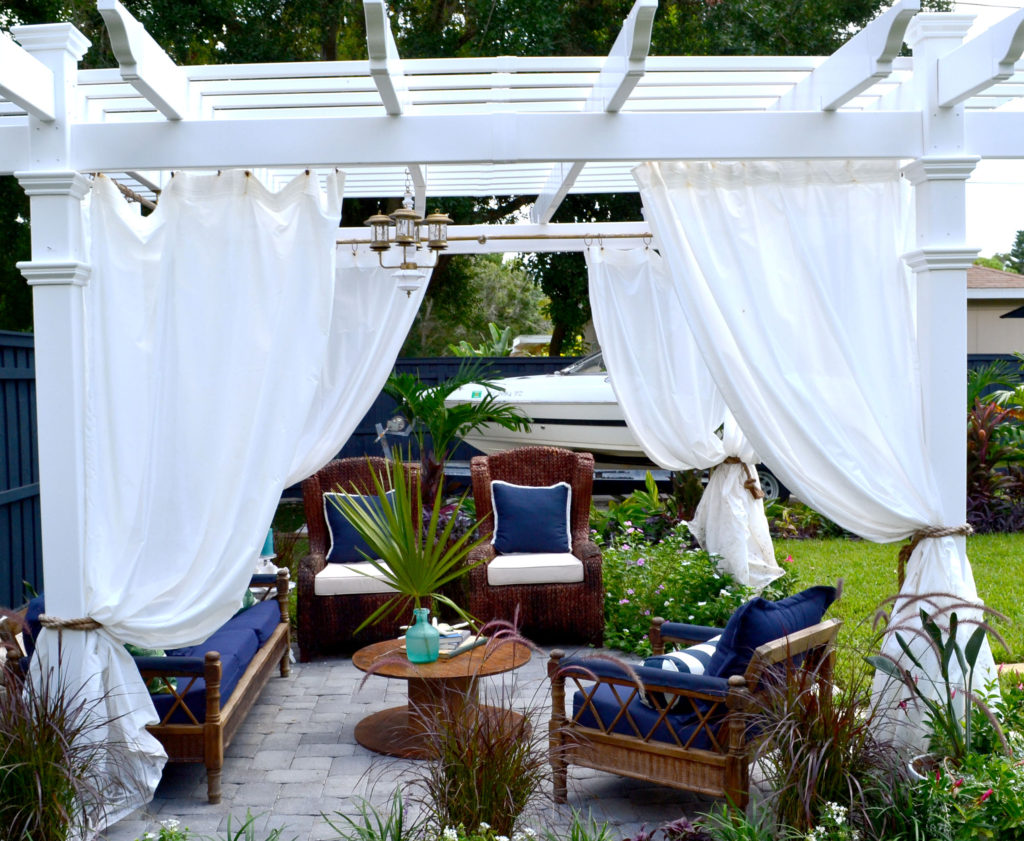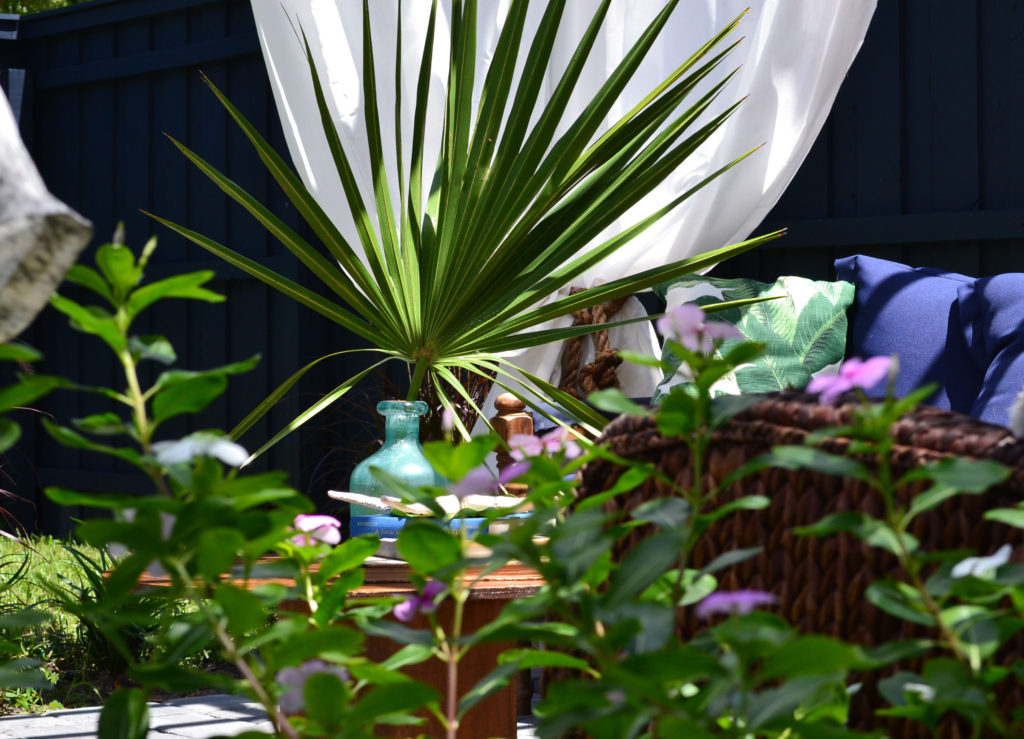 These chaise lounge chairs were a bargain online at $15.00 a piece! We refinished them, along with the table, and added an umbrella, and some outdoor cushions. They are a must-have accessory for a pool!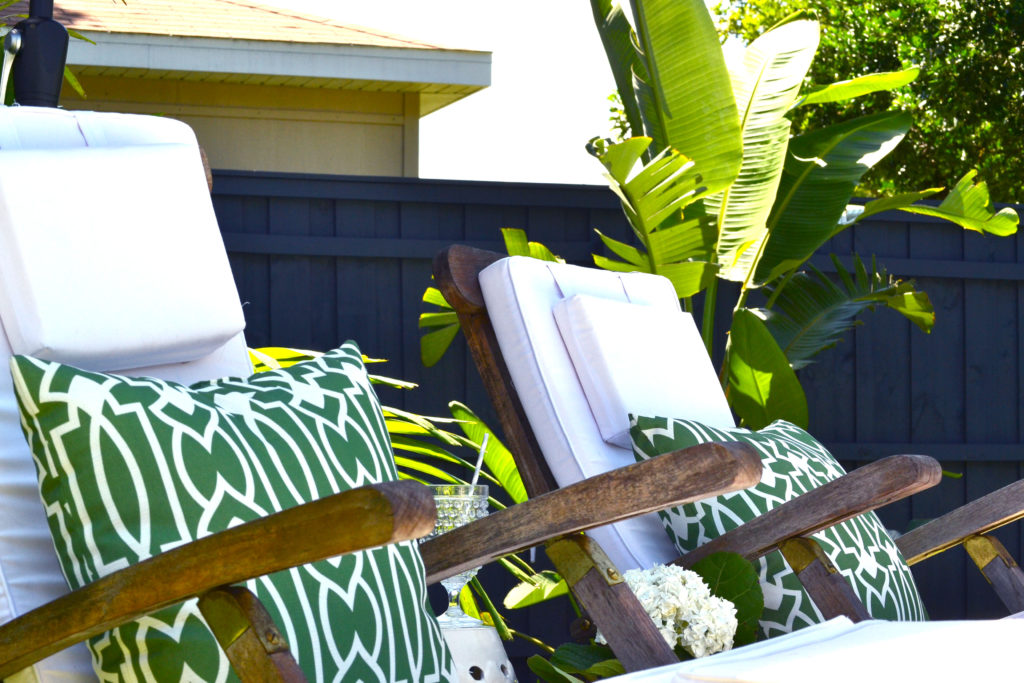 Our daughters' chaise was purchase online because she wanted to be like us adults and it's just so small and cute! I can't even stand it!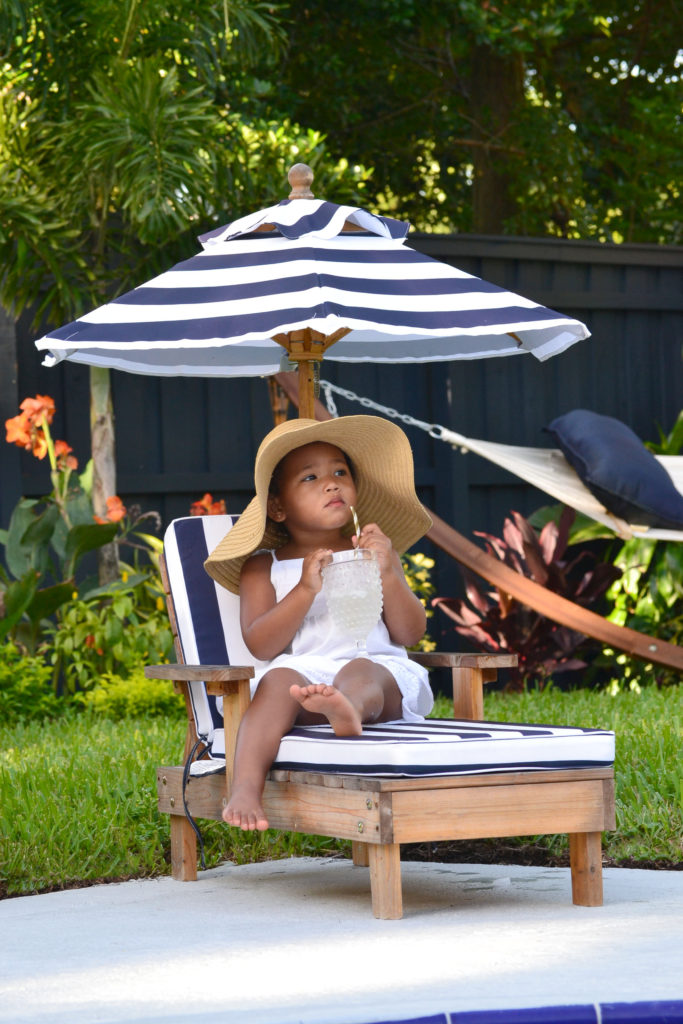 Behind the "adult" chaise lounge, we planted a bunch of tropical plants, added a pattern of pavers and turf to the ground, to protect the boat from the dirt in our yard -aka-sand! Yes- I know I should have shoes on and so should my baby, but we're beach bums and well-we lived!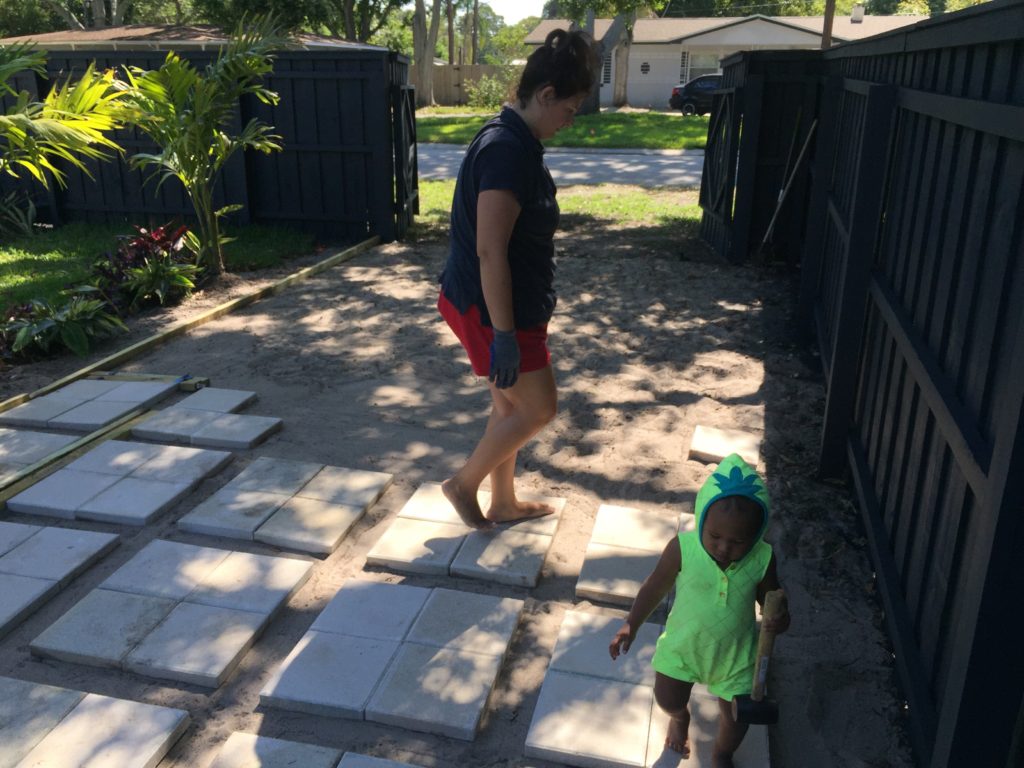 We leveled, added pavers, turf and finishing sand and I *think* this might be my husbands' favorite area. His other baby- can now rest easy!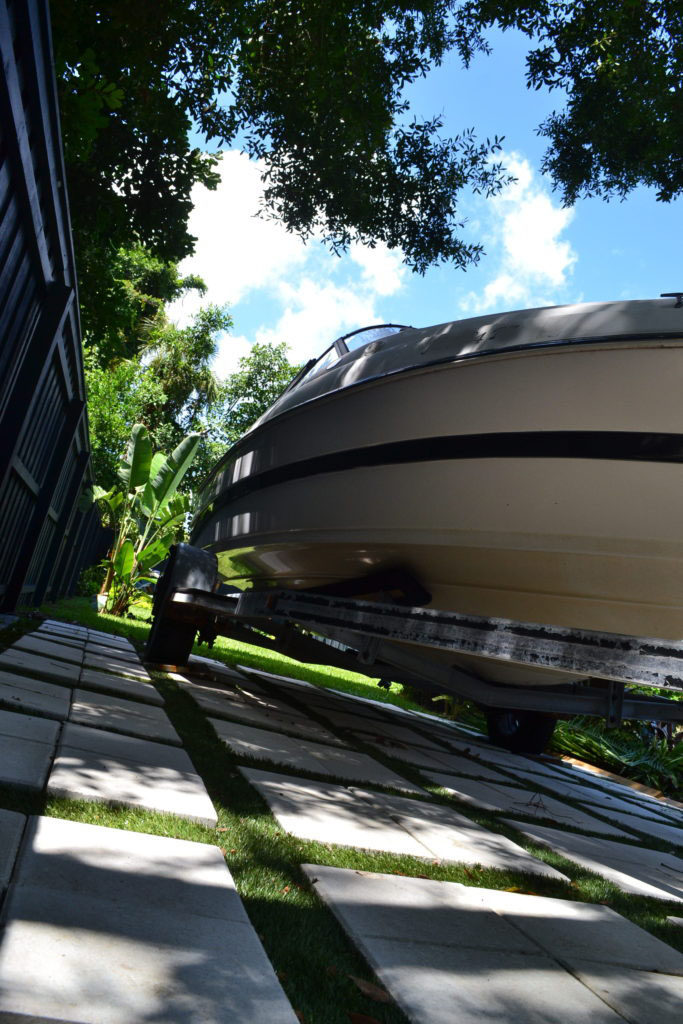 Thanks to the awesome people at Willow tree Nursery here in St. Petersburg, any question I had about landscaping were answered. We wanted something that would hide the boat enough to not detract from the rest of the yard & be lower maintenance.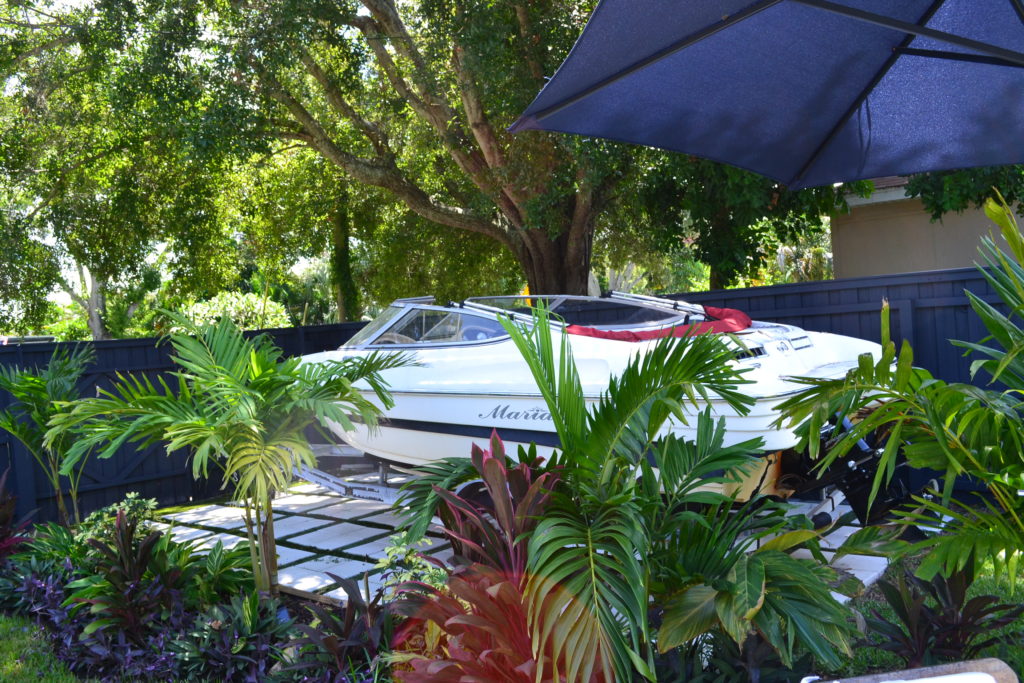 Our yard was such a labor of love and we never want to leave! Our daughter loves her swim lessons and playing in the grass- I love my chaise and pergola!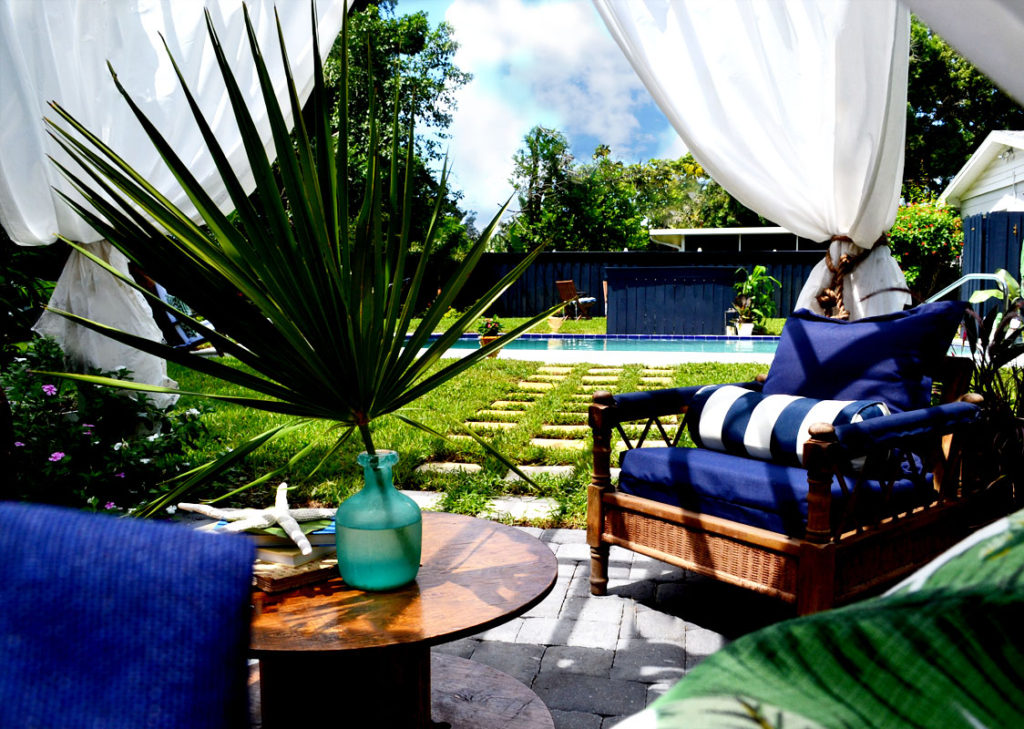 Tell me what you think? Is that space a place you could hang out in? Have you ever undertaken a back yard renovation? Let us know!!