Hey everyone! As some of you know, we recently moved and with that comes some design challenges and changes. Over the next few months, I'm going to take you all with me as we embark on this design journey. You'll see my true passion for decorating with inspirations from nature, antiques, DIY, and much more. I'll show you how you can use color and a little art know how to create a beautiful home.
First, let me give you a little in-site to our cute home here in Florida. We searched for about a year, for the perfect piece of paradise and FINALLY arrived in this little gem, we now call home. We found out through our lovely neighbors that the women that previously lived here loved her home dearly and it showed (she had passed away and we purchased the home as an estate foreclosure). Everything was meticulous- dated- but still very nicely put together. We were so excited – me more so than the hubby – to get started. I decided to tackle a pretty big first project. THE KITCHEN…..dun dun dun…. so let's begin shall we?
Here is a picture of the kitchen before via the listing of the home. I was so eager to get started that I didn't really care about taking before photos, a decision I now regret, and one that my web designer hubby said,"…photos are everything on the internet" so,  here we are – with the agents before photo! The cabinets are solid wood and are custom built- as with all of the houses on this street in the 1950's by a little German man. He built all of them and every once in awhile you'll find that something might be a little off- but thats okay. Alright, back to the cabinets- solid wood, with dated hardware, a-lot of grime and grease. But I love them, because even the lowers have nice shelving and hidden drawers. They are nice and deep and hold EVERYTHING. Basically, there was NO WAY I was ripping these beauties out. NO WAY- NO HOW. Eventually I will write a blog post and link it here about the step-by-step process of how I actually re-did the cabinets, but one post at a time.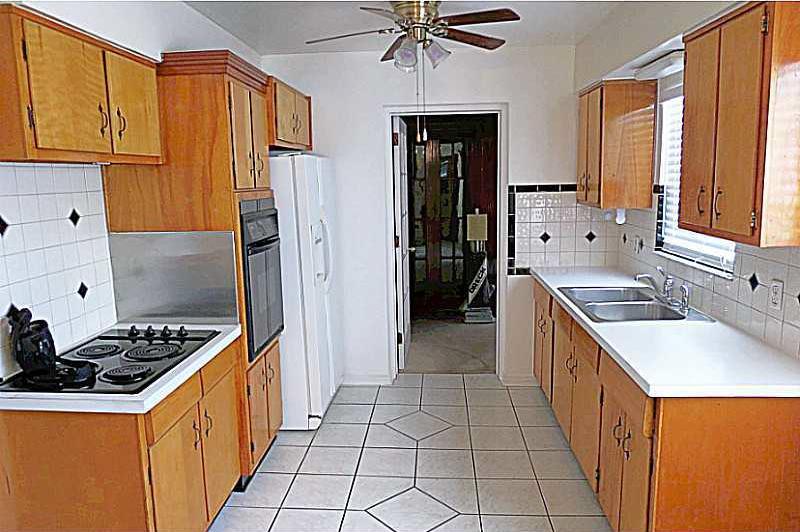 After some serious elbow grease and patients, I think our kitchen came out fantastic. Its been about 6 months and the kitchen still looks a great. We kept all of the original black and white tiles in the backsplash. We recently just purchased a new fridge, and we are contemplating new countertops (these are just formica). I love soapstone but I don't think the colors will work here. So, until I'm truly inspired, this is how it will stay!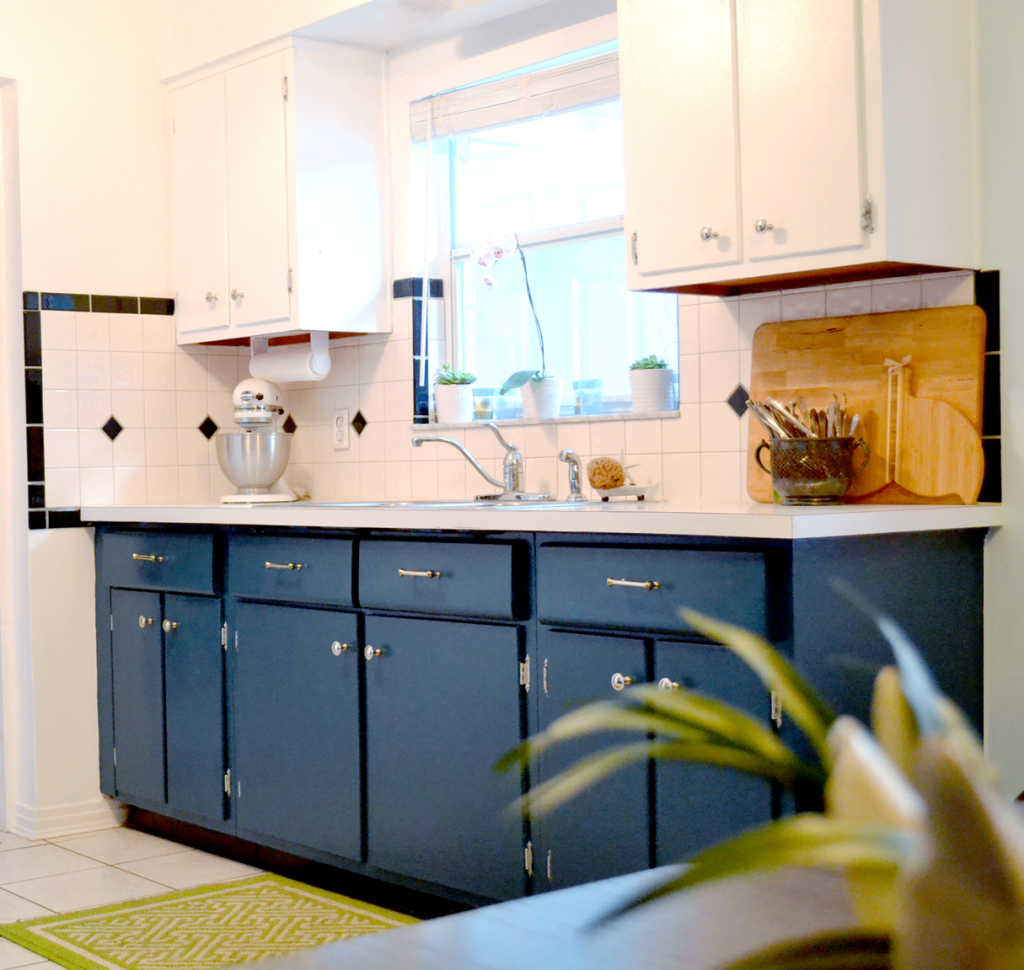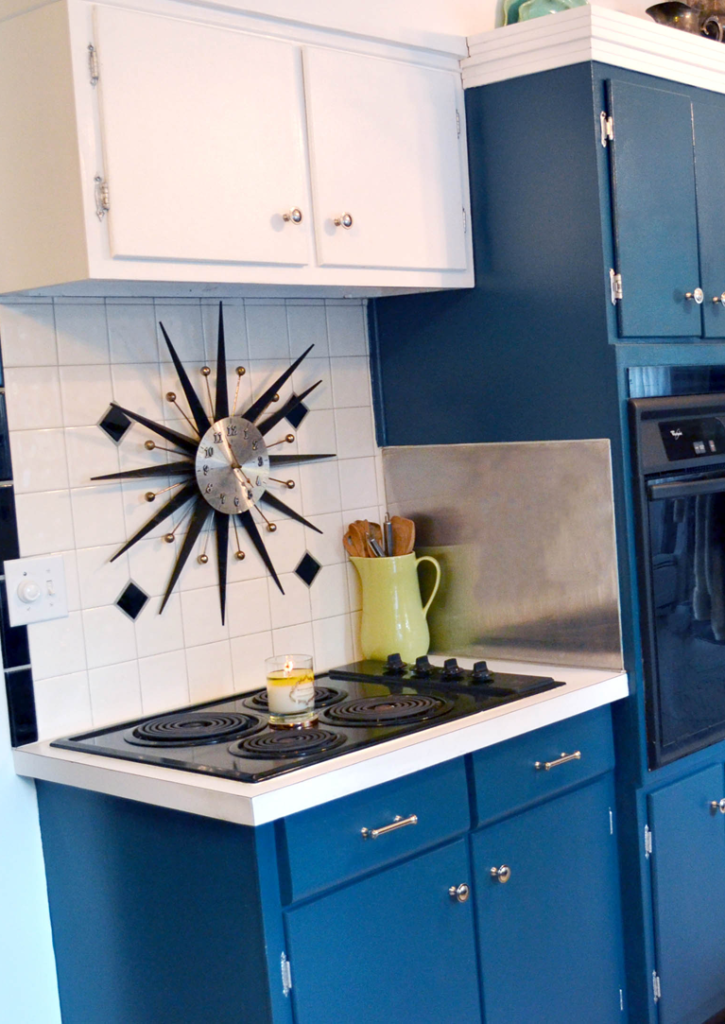 The home has about 10ft ceilings so in order to make things taller and to create an illusion of grandeur we went with an "ivory white" for the uppers by Benjamin Moore, and the lower cabinets are a deep blue/teal called "Kingfisher" by Behr. But here is the kicker- I have a preference when it comes to paint, and no I'm not getting any kickbacks from them, I just really like Olympic brand. It is a little thicker, so its easier to apply and has good coverage. So once I found my colors, I had the paint people use the Olympic brand and custom create it. They will tell you the color may very- but I think they have to say that just because every paint is a little different.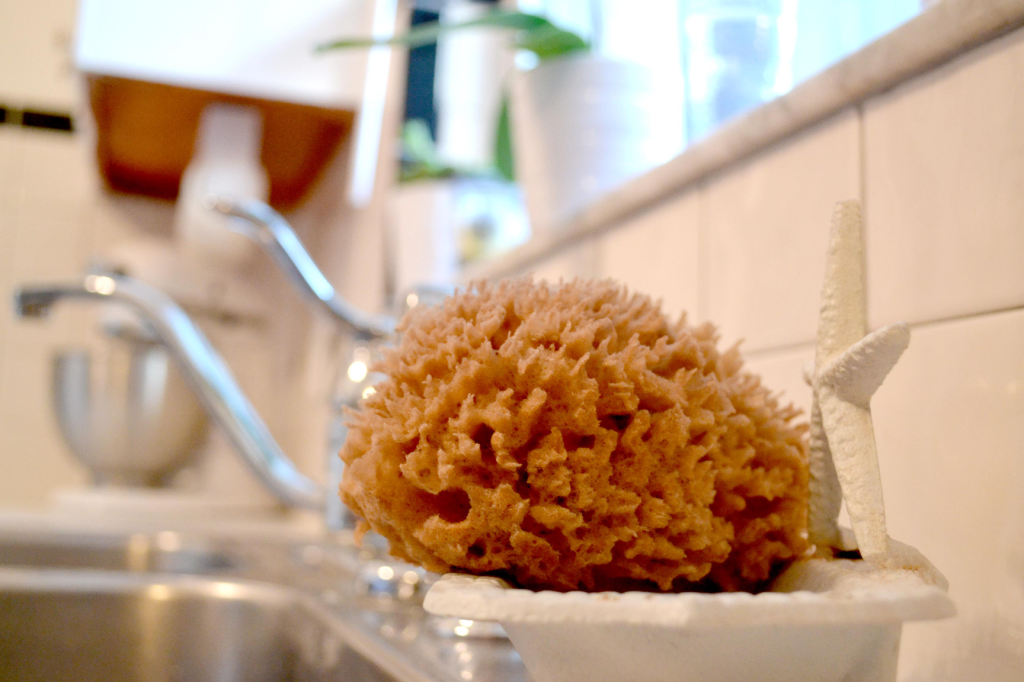 We live near a little area called 'Tarpon Springs" which is known for their sponges (they come right out of the ocean) and yes- that's all I use now for the dishes! When decorating, shop local and natural; It goes along way!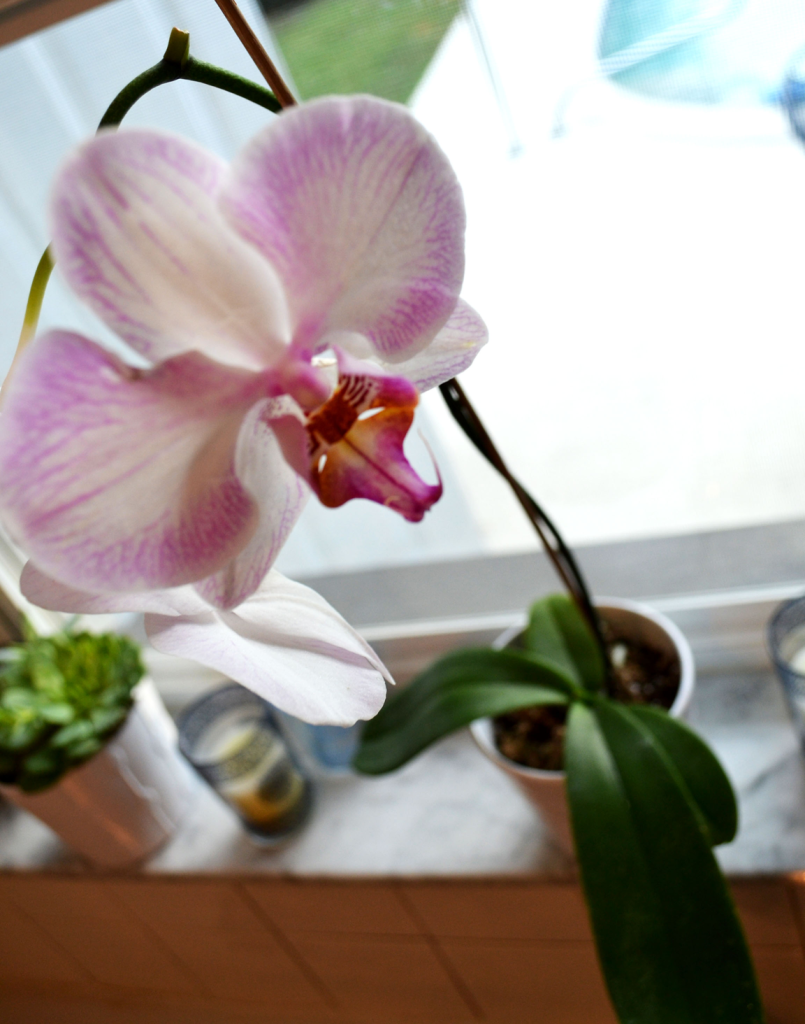 I also love using a local florist for my plants. The purples and yellows really lend themselves to the blue tone of the kitchen. And who doesn't love a succulent lately??
The Elgin clock and silverware (ebay) are both vintage. You can see a little sneak peak into my dining room, thats another post for another day. The clock does work and, yes- we do use the silverware. I love having it displayed, almost as if its little pieces of artwork-  it just shouldn't be left in a drawer.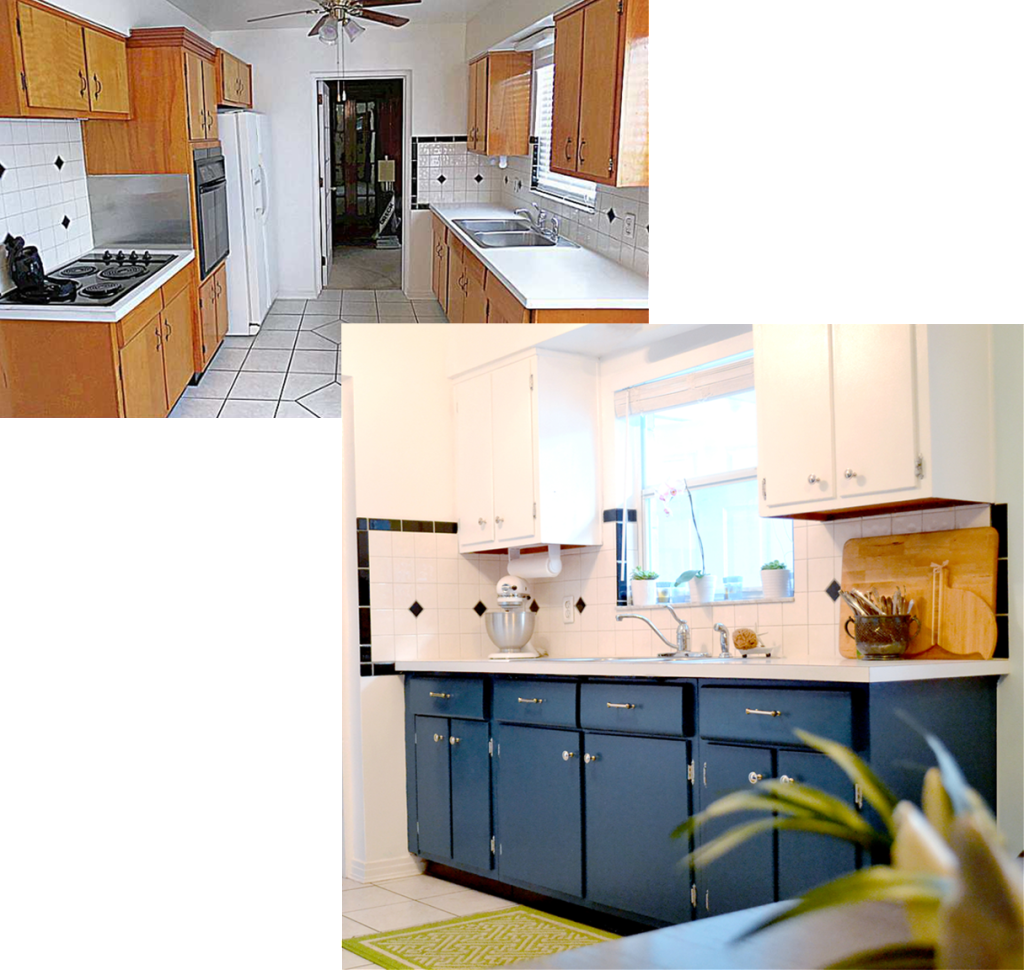 I hope you enjoyed seeing some of our hard work! Please feel free to comment, post and follow us on pinterest, facebook and instagram!
Happy decorating!
Chelsea