Today I'm going to write to you about our wedding. My husband and I have been married for 4 years today (together for 10) and when we got engaged- the wedding planning started….and so did our shock over how expensive things were. I knew right away that I didn't want to spend tons and I also knew that I wanted to do most of these fun little things to make our wedding special.  So, here we go…..
The Invitations…
As many of you know I am a painter as well, so I really had to have special invitations. Don't get me wrong, I love fancy paper like everyone else, BUT I don't love paying for it. Invitations, especially specialty ones, can cost an upwards of $600 to thousands of dollars. So I hand drew all of mine. I had my husband upload my drawings, clean them up, and send them to the printer. We spent around $200.00 for everything including the navy blue envelopes.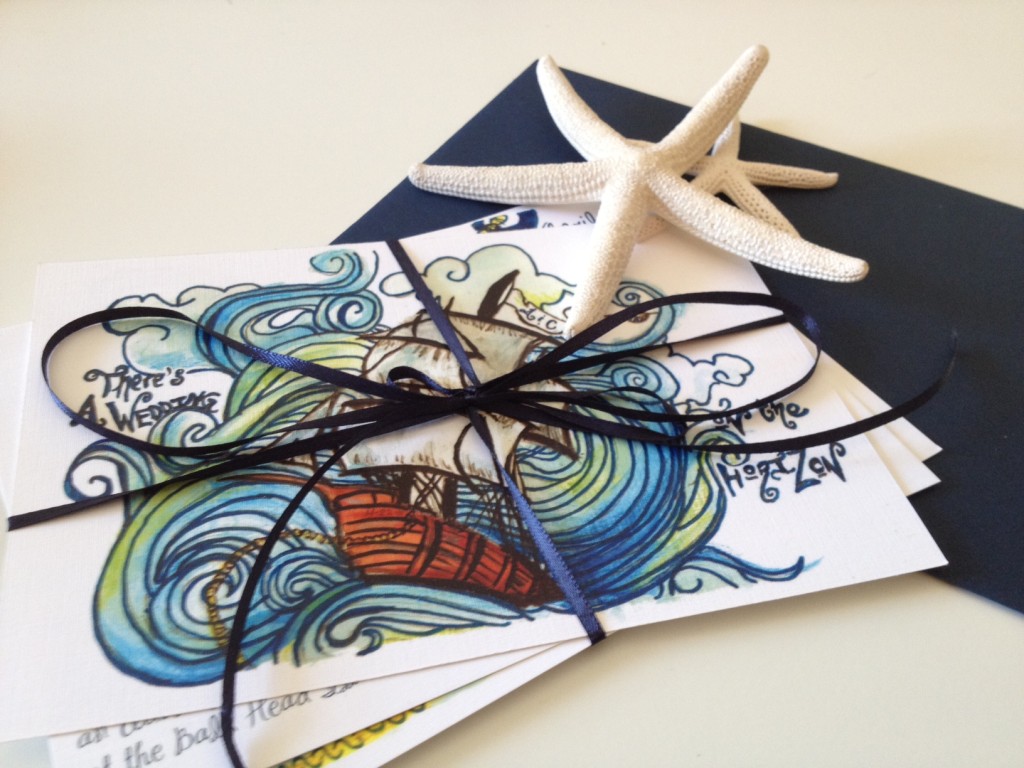 We still have a set of our invitations framed. I just love how they came out. And like our wedding, it was definitely unique.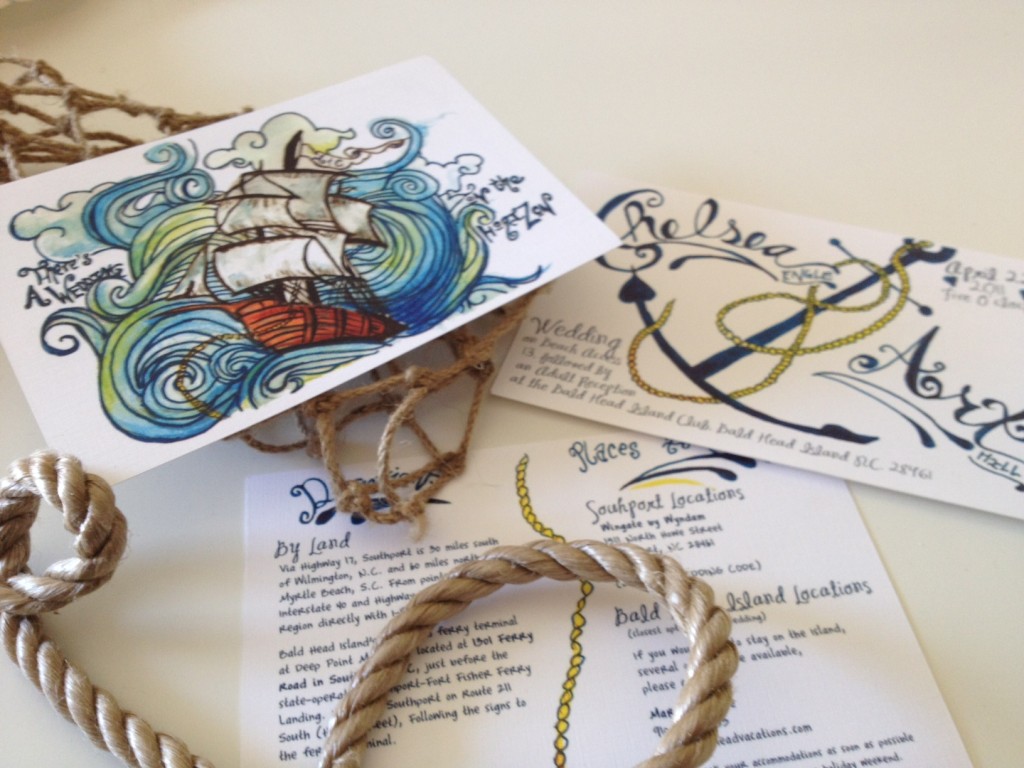 The Flowers….
What more do I have to say; variety, season, and how elaborate you want everything all play a MOJOR role in how much you are going to spend. Typically on average a single bouquet for your flower girl can run you upwards of $100.00. And for you…well you're the bride, so add a few more hundred. So with that in mind, I did a few things to change this up.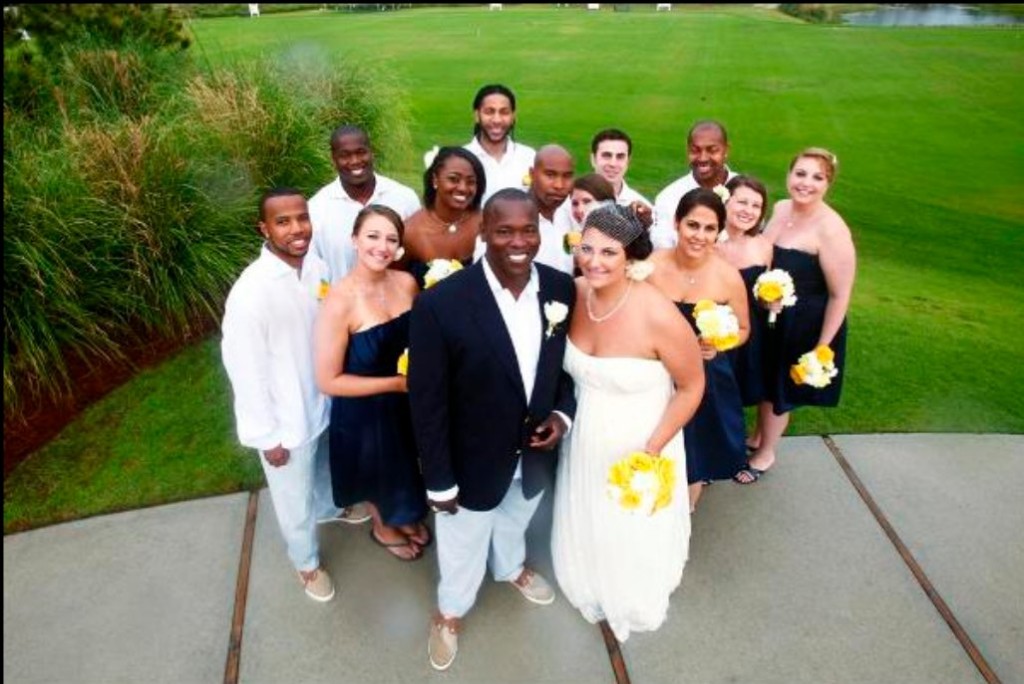 First, I ordered my flowers in bulk from a local grocery store. I ordered yellow Ecuadorian roses, white roses, and some filler flowers like white and yellow carnation. In total- I think it was around $100.00. I simply had to refrigerate flowers until I was ready to make a bouquet and; Wa-La! ( I'll have a how to tutorial on that here, in the future)
I also used the Ecuadorian roses ( and native beach plants) for the mens boutonniere and flowers for our mothers. I really do love how they turned out and since Yellow and Blue are complimentary colors- they really pop in the photos with the bridesmaid dresses.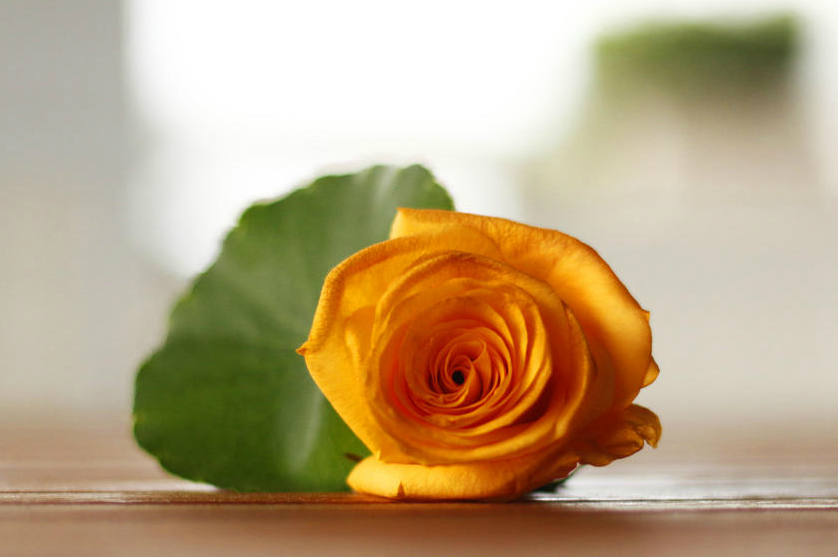 The Centerpieces…
People also tend to use flowers for the centerpieces and that seemed "done before" so I got my creative juices flowing. What I came up with was centerpieces that included white candles, shells, and DIY number jars.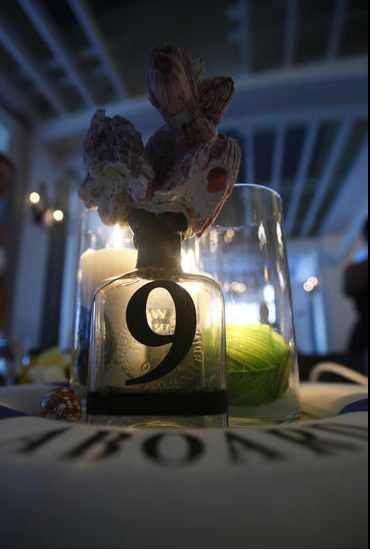 I hand made all of the table numbers with in-expensive antique glass bottles found at a local antique shop, I think they were $3.00 each, a unique shell for the top, numbers (from any hardware store) , super glue and black tape.  I did some research on craigslist and found someone selling all of their votive holders and unused, unscented white candles from their wedding and bought all of the for around $30.00. Every Table also had a cute mirror that said welcome aboard. We placed the candles, and shell table number on the mirror and it looked amazing!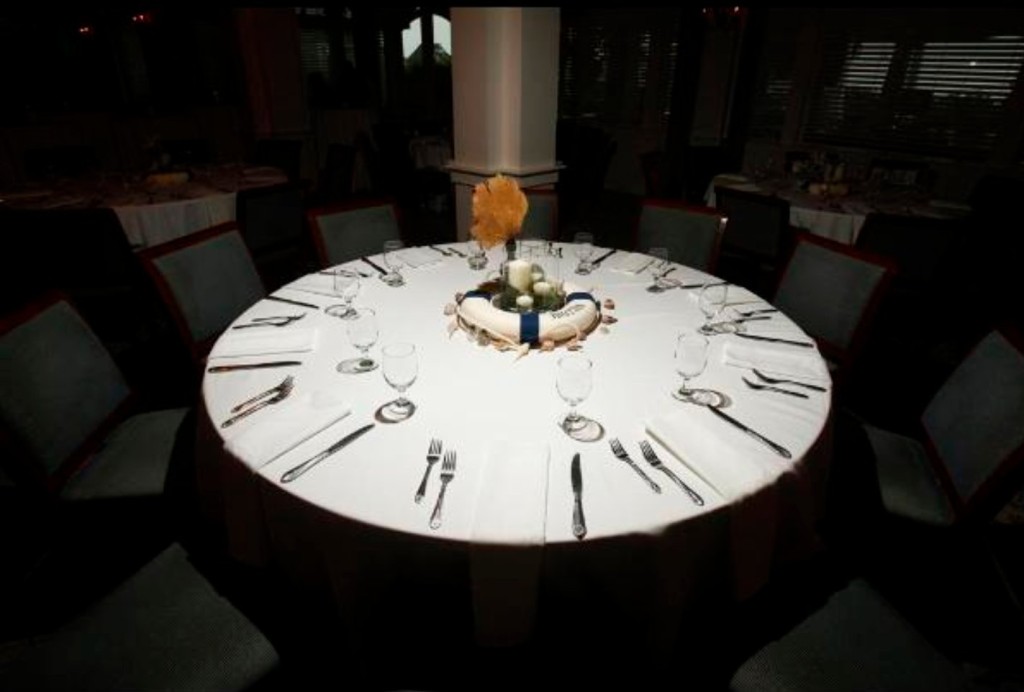 All in all, I think my centerpieces cost about $300.00- and that included everything. Now don't get me wrong I've seen a lot of DIY centerpieces online that were..well…not the nicest and if you need help ask. And if you aren't very crafty, enlist the help of a friend who is!
The Seating…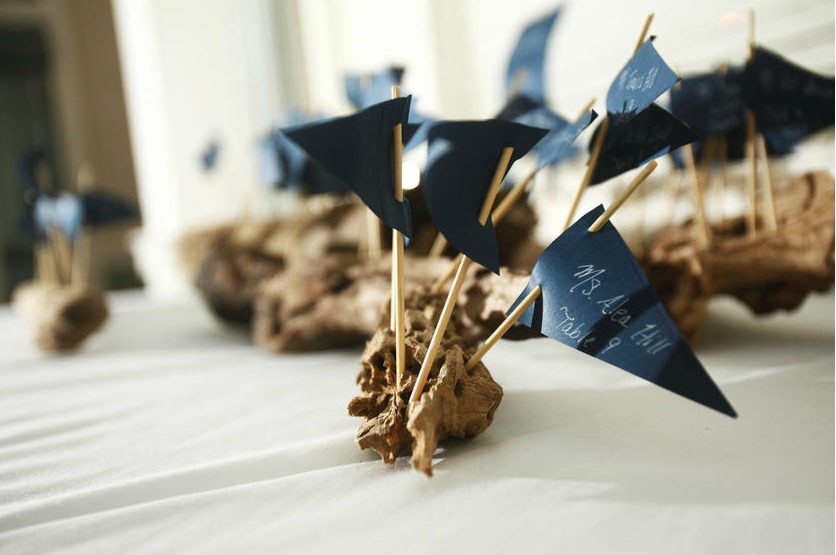 With the seating,  I wanted to be creative, and as inexpensive as possible.  I decided, keeping with my nautical theme, and the fact that I can never get enough drift wood, I just had to do something with that. So I made little flags out of blue paper and wooden skewers and placed them in the driftwood. I think everything here cost around $10.00 mostly because I just HAD had to buy a fancy white pen to write on my blue paper!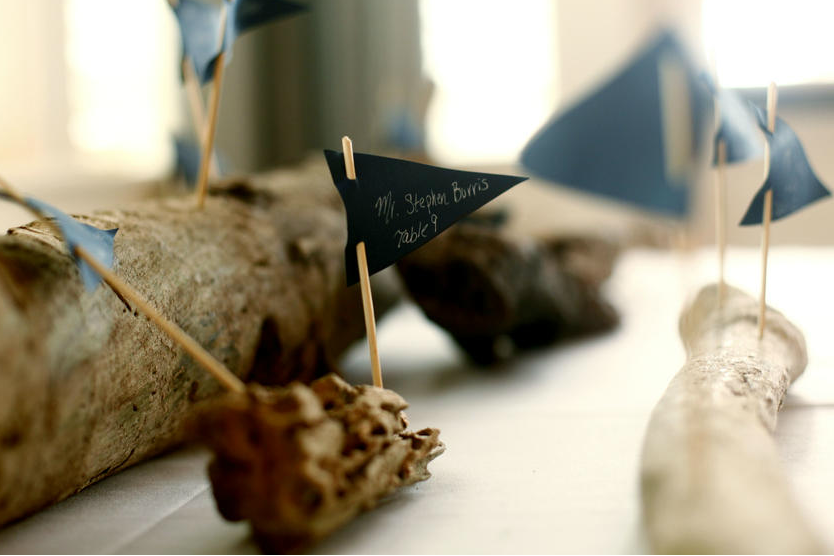 Parting (gift) is such sweet sorrow…
Once the party wound down, and it was time to go, I needed a cute little gift my friends and family to take home with them. Again, I needed something creative and a little bottle opener wasn't going to do it for me so, I created some lollypops, not just any lollypops, but ones on the old fashioned wooden sticks. Sure, I could have purchased them and it would have cost me almost $300.00- But whats the fun in that.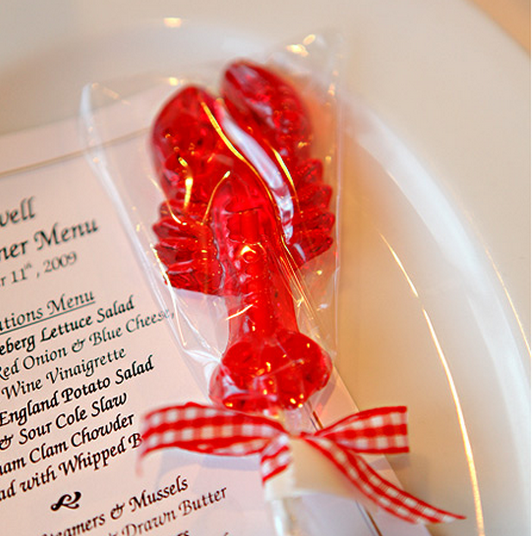 I did some research online, and I purchased the wooden sticks, the molds, the flavoring and the little wrappers that would cover them ( around 30.00 for everything) and I began making over 100 of the little suckers. It was a little time consuming, but it was also fun learning how to make candy, and it was special to me.  My mom ended up finding a decorative lobster trap online and we used it to fill it up with the lobster candy at the end of the night!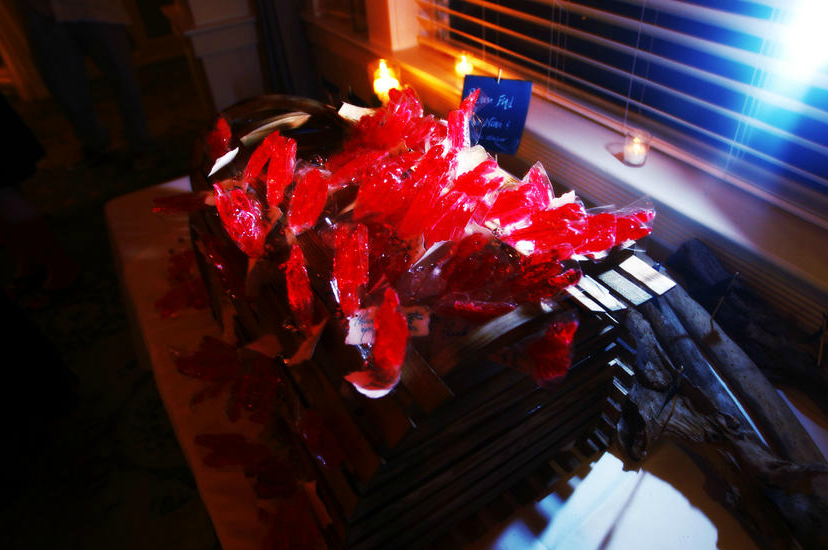 We had the most amazing time at our wedding and I'm so glad that I'm able to share all of these little details with you! If you are on a budget save money on these little details and start off with a beautiful location. We got married on Bald Head Island, NC at the Bald Head island Country Club. It was a gorgeous venue so with that- it really didn't need much decor.
Other Tips and Tricks….
If you're doing a cake, you can save money by having a "fake foam cake" and having sheet cake already cut and ready to go in the back. Most places charge a cutting fee for these types of things.
We also made little baskets for everyone as they arrived. The baskets were not expensive to make; as we filled them with water, maps from the area, things about the island, some candy and snacks. People really appreciate little details like that, especially those out of town guests!
Finally, Use sites like Etsy. I was able to get a gorgeous veil, garter and really cute gifts for my bridesmaids.
Tell me, are you planning a wedding or other event?? What things are you trying to save on?? Tell me about it in the comments below!!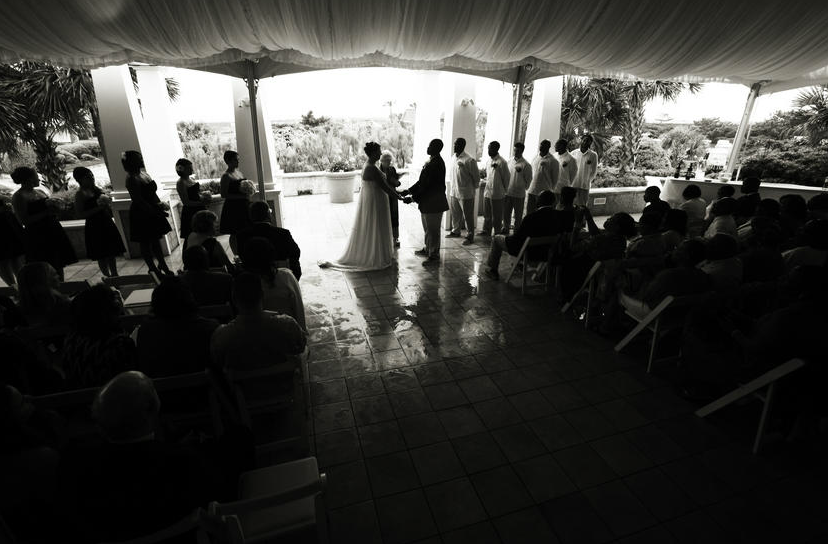 Happy Decorating!!
Chelsea