Florida Garage Space One Room Challenge~
We're getting down to the wire and I'm starting to get a little nervous that I'm not going to finish in time! Yikes! I did get a lot done this week I did, even more, organizing and a few simple D.I.Y's. I'm hoping everything goes smoothly this week! We're planning on doing the photography on Tuesday for the reveal so fingers crossed!
Week 1 |  Week 2 | Week 3| Week 4| Week 5 | Reveal
Peg Board
So I knew an easy way to organize my crafting and tool supplies would be by utilizing wall space more efficiently. I had already had a large piece of white pegboard left over from a tufting project and it was the perfect fit for where I wanted it to go!
I had no idea how much I would love organizing this pegboard until it was up and was able to put SOO much on this thing! If you are a sewer/crafter/ D.I.Yer or designer I would one thousand percent recommend doing a pegboard. I used to have all of my things in cute little matching boxes, and I thought that was the best way to store my items but I was so wrong. It is so easy to grab and put away- and I read somewhere once that if you really want to keep something neat and clean, it has to be easy to get to and easy to put away, or else you won't do it!
Here are a few of the things I purchased for our pegboard~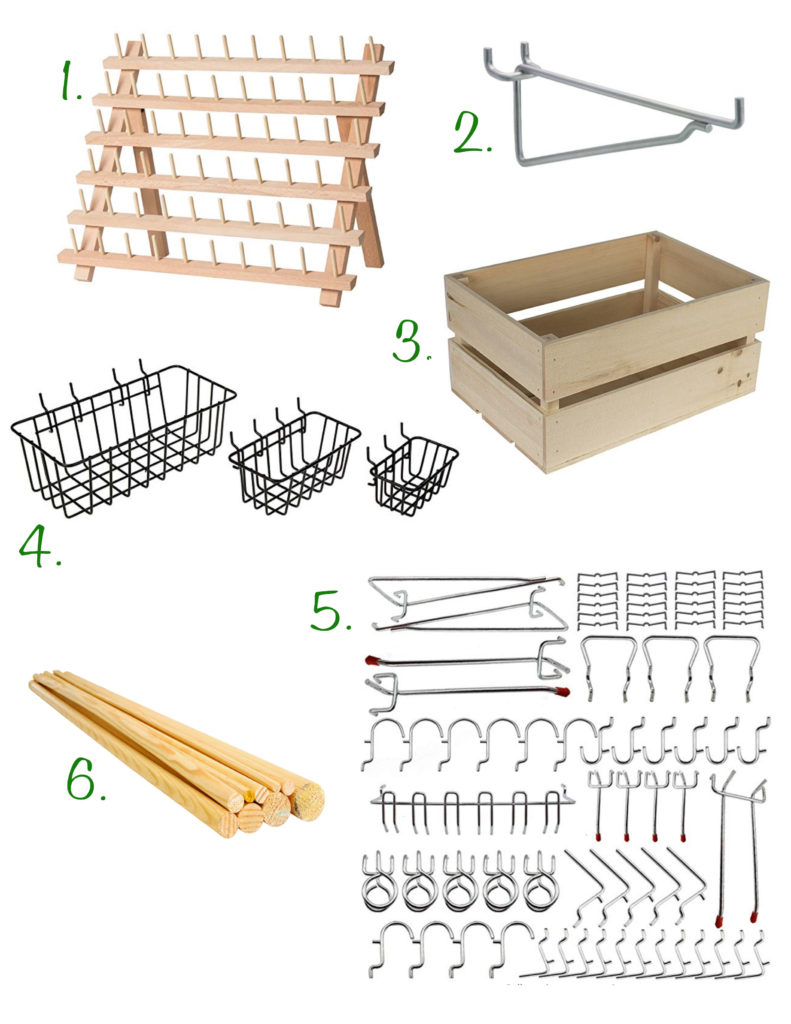 1.Sewing thread holder– 2. Shelf Brackets– 3. Crate – 4. Baskets – 5. Pegboard Hooks–
I don't want to give too much away this week because I really want you guys to see it in its entirety at the final reveal! Here is a tiny little look of my pegboard so far! (And, this will probably change a million times so it may look a little different for the reveal!

Dresser
This week I've painted my pieces of furniture that will hold all of our tools, and other Tchotchke's!
I'm a little bit strange I guess, not wanting a regular tool chest, but I find the newer ones pretty ugly- and if it is going to be in my "studio" I wanted it to look a little more put together. Here is one of the pieces I'll be using – I literally got it for free the other day, I drove by as the woman pulled it to the curb! Not exactly the style I love but it'll work for now! Here she is before her paint job!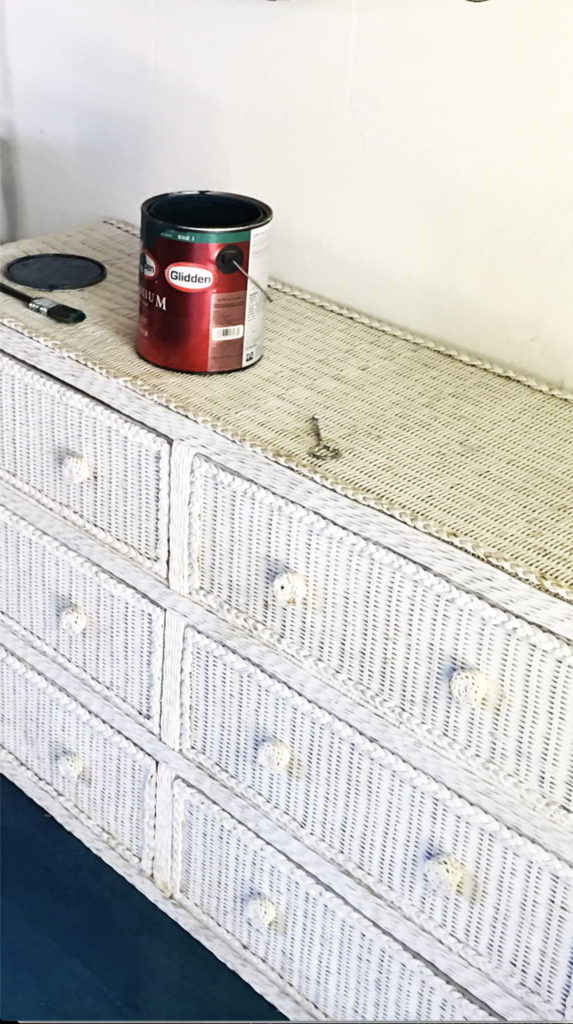 I can't wait to see it all come together over the next few days! A few final touches and I'll be finished! Keep your fingers crossed for me! Hopefully, I will be done in time! I wish all the luck to the other One room challengers as well!! <3
Don't forget to follow along with me on Instagram!
I'm sure everyone else has been just as busy as I have! Be sure to check out what all of the other guest participants are planning for this week!