Beach Chic Bedroom Space One Room Challenge~
We finished and I couldn't love it anymore than I do! My daughter is over the moon about it and every time she walks in she keeps saying it's so pretty. It melts my heart a little more each time!
If you are new to the One Room challenge, click here, or on their logo above to find out more information!
To follow along with the progress week to week, use the navigation below;
Week 1 | Week 2 | Week 3| Week 4| Week 5 | Reveal
The Reveal
So let's take a look at what you came here for! I hope you think it's as fun as I do! My takeaway from this project is, don't be afraid of a little color! Even though it's for a little girl, it makes me so cheery every time I walk into her room, so I think I'm going to start adding more cheery elements throughout the rest of my beach house!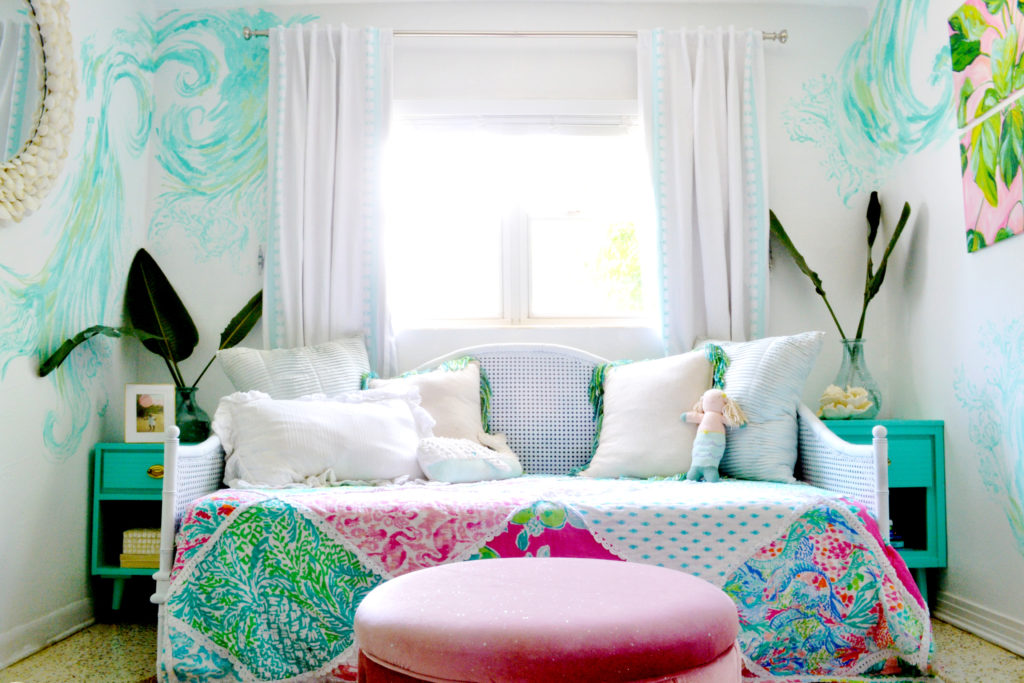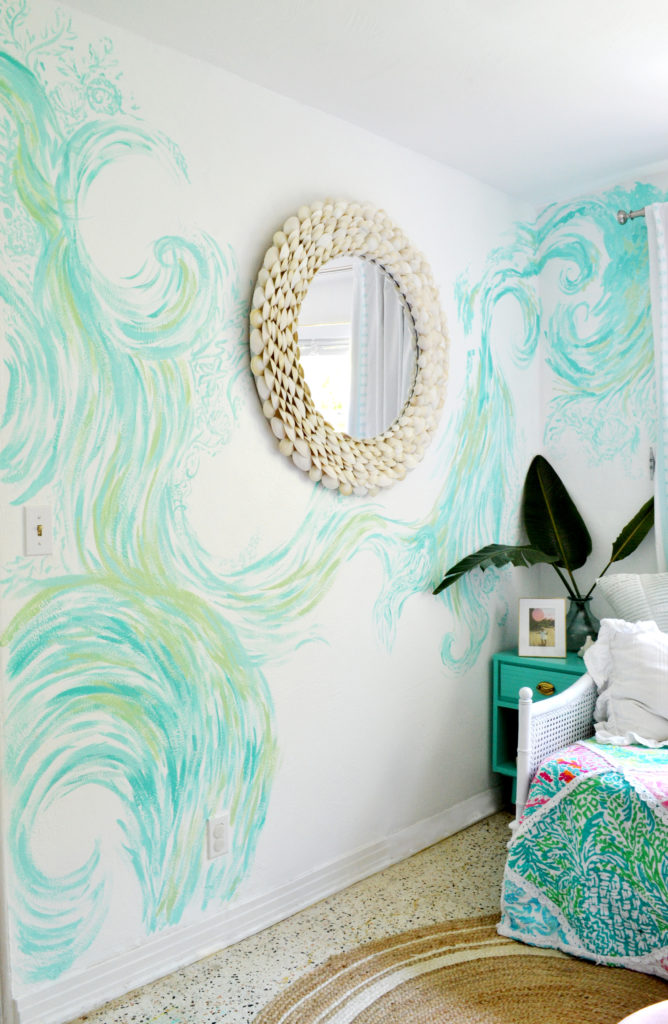 The mirror is my absolute favorite piece in her room for several reasons. First, it was basically free, I already owned the mirror and glue- all we needed were the shells. Second, she helped me collect every single shell with multiple trips to the beach. We really do love going for long walks on the beach, so it was the perfect excuse to go a few more times! She was so excited when she would find the "right one" it was adorable and something I'll always remember! I also love it because I LOVE to add natural elements in all of my designs. Every single room I've ever decorated & designed has some sort of natural aspect, be it shells, driftwood, rattan, banana leaf- you get the idea. This piece helps tie in with the theme and adds functionality.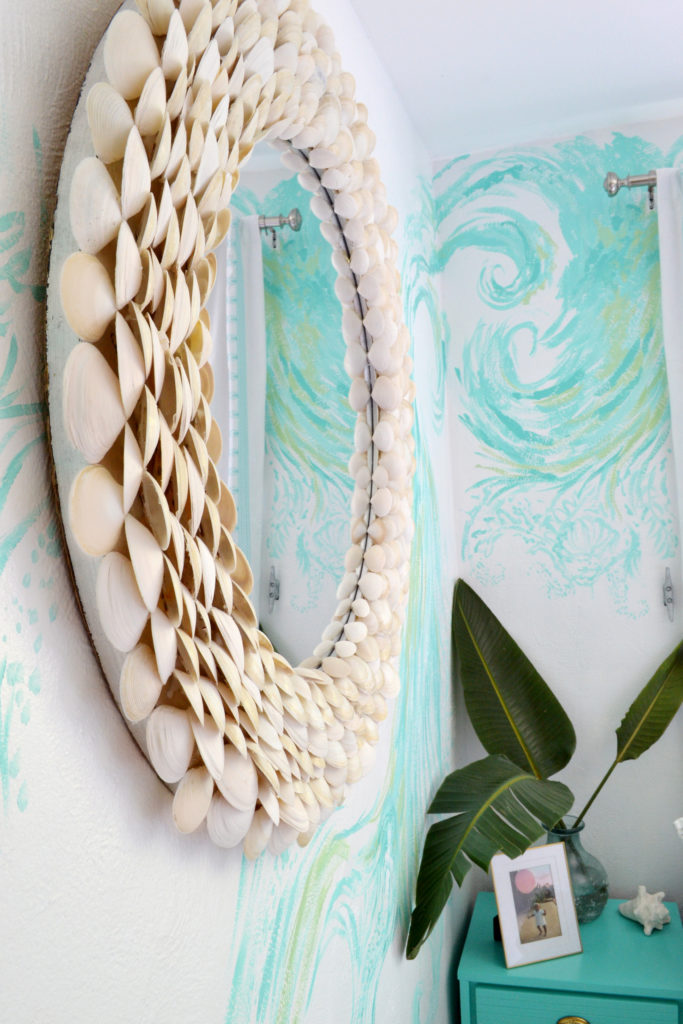 The nightstands coordinate so well with the rest of the room. I'm in love with the subtle hints of brass in the drawer pulls and legs. The extra storage in the drawers and base is perfect for all of those little nature walk finds, or when she's trying to hide something! We keep her favorite books in the bottom of each cubby, she loves to take them all in and out.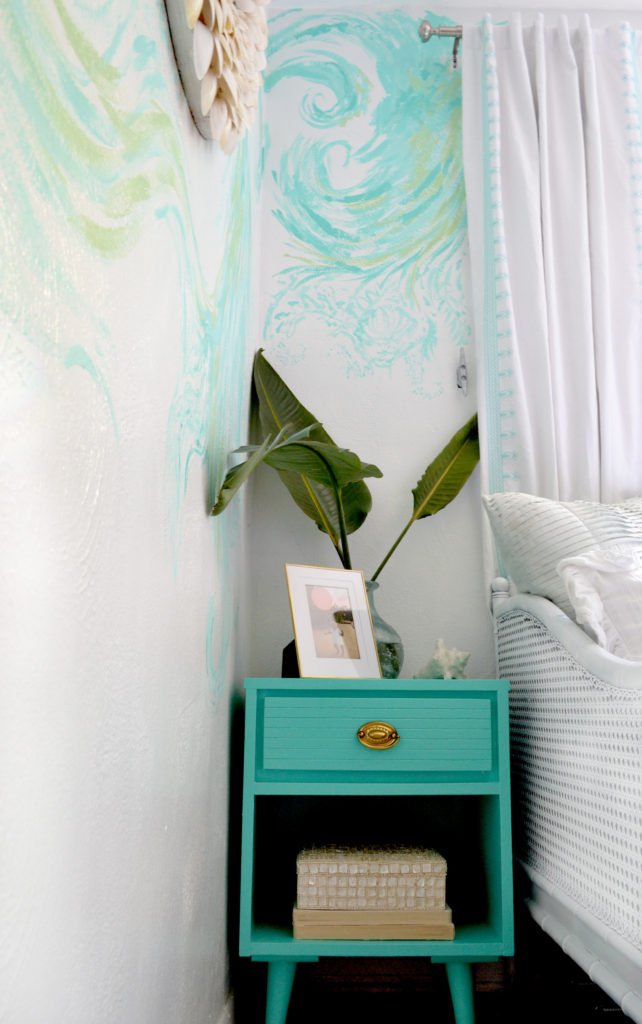 The bedding is the perfect addition. I love the lace trim detail in the quilt. It's not to thick for the summer, and with all of the different patterns, it hides away any toddler mess!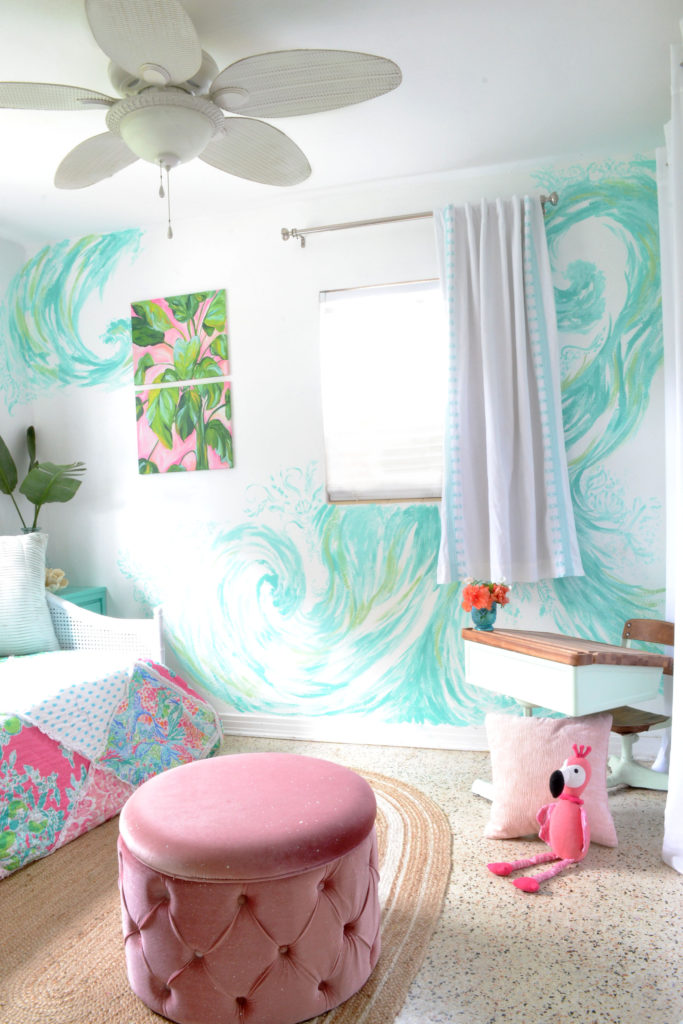 This storage ottoman is amazing! It's actually supposed to hold shoes. Its got little pockets inside for all them, but we store all of her stuffed animals in it instead. Sometimes she even likes to jump in and play. It's a really sturdy pink crushed velvet with a subtle hint of glitz. What little girl doesn't like a little sparkle? She's got so many toys, we keep some packed away and switch them out when we notice she doesn't play a particular one any longer. She really enjoys when she has a few toys out, but when most of them all in her room, it was a little overwhelming and she didn't play with any of them. Sometimes less is more!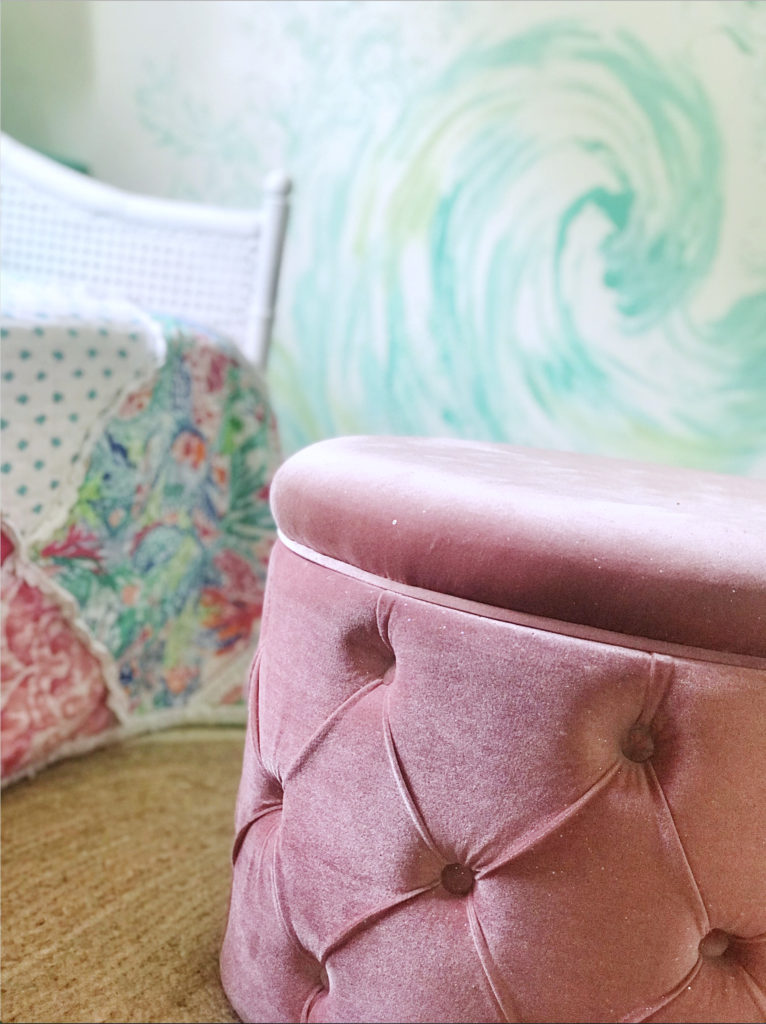 These paintings were a last minute addition. When I was finalizing what would go on the walls, I needed another pop of color and knew I wanted to tie in the pink. An hour later and wha-la! A little hand made art and I think it works perfectly!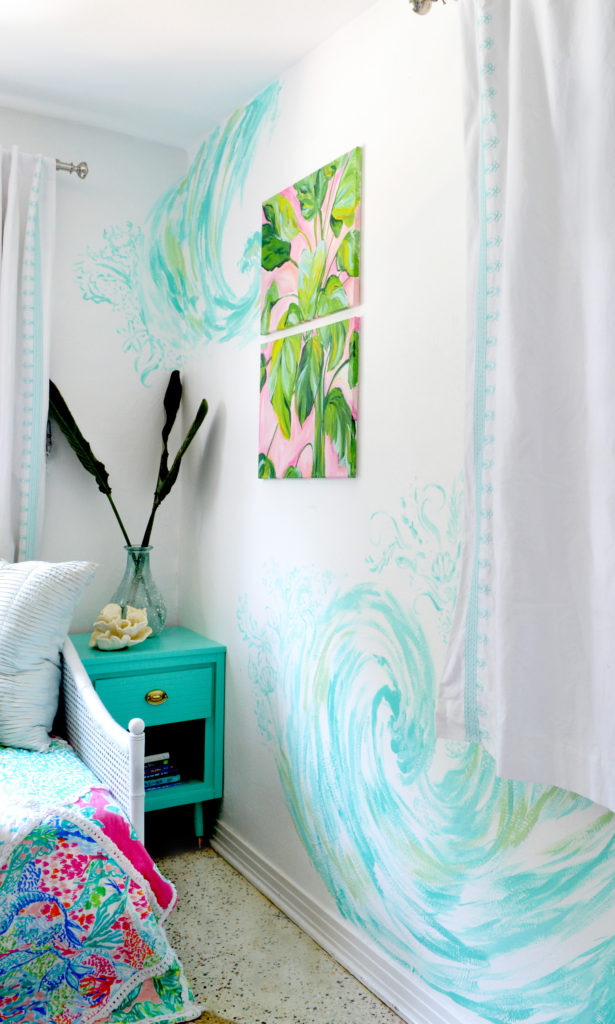 This mural was so fun and relaxing. It so rewarding being able to have an idea in your head and execute it through your fingertips and through the paintbrush! The mural is very impressionistic, and I hid elements in it throughout the room, like her name, mermaids, and of course some oyster shells.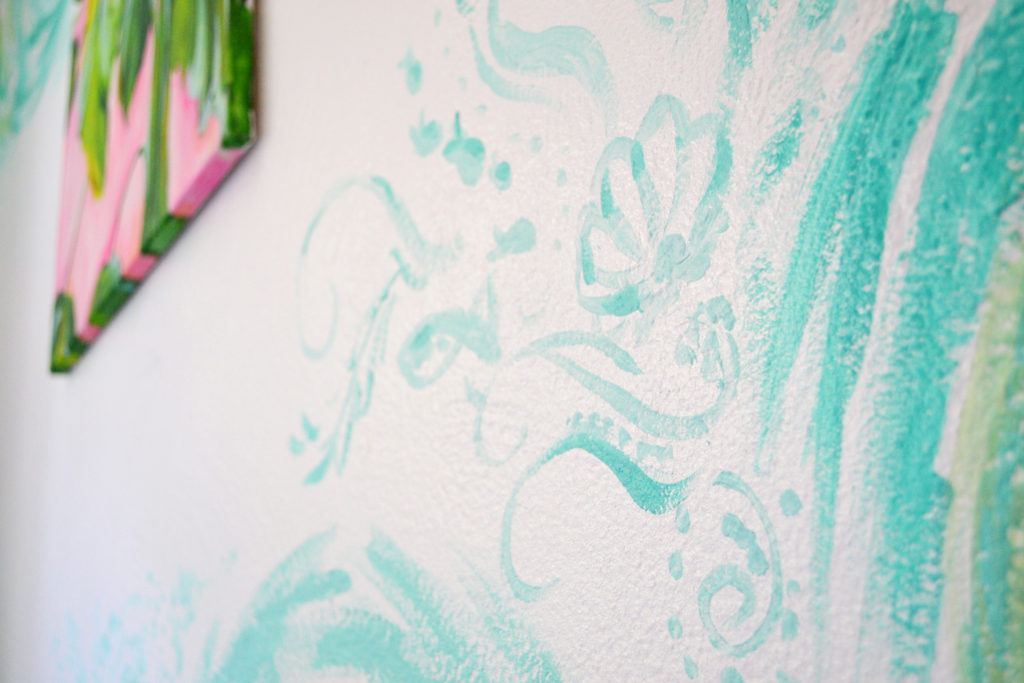 She really loves sitting at his desk already and coloring. In fact, right after I took this picture, she was coloring and the top is already covered in purple crayon! Good thing it comes off easily. Silly girl!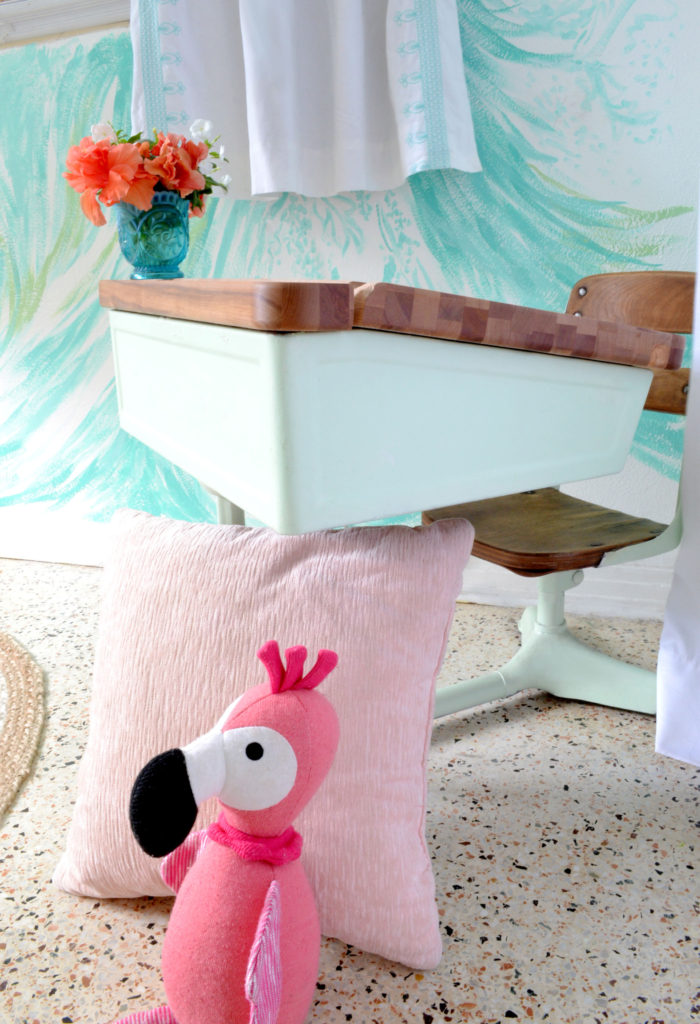 This is the dress up area behind her bedroom door. The print on the wall is from Etsy and I made her this shelf for Christmas. She LOVES playing dress up and being able to reach her dresses and costume jewelry and of course the fancy shoes. Most of the time she tries to wear it all at once- like every skirt and dress- and it is hysterical. The funniest part is, the only movie she's seen with a princess in Shrek; so here's to being princess Fiona! If you want to check out the tutorial on the shelf, check it out here. It was super easy and super cheap!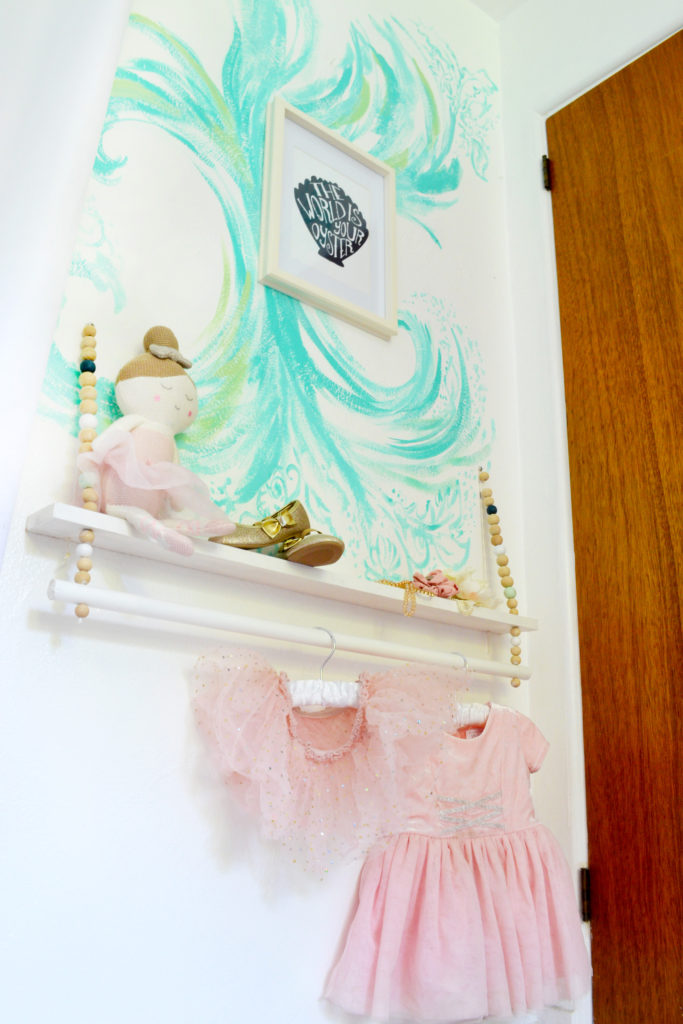 A little dress up tea party never hurt anyone..cheers to you!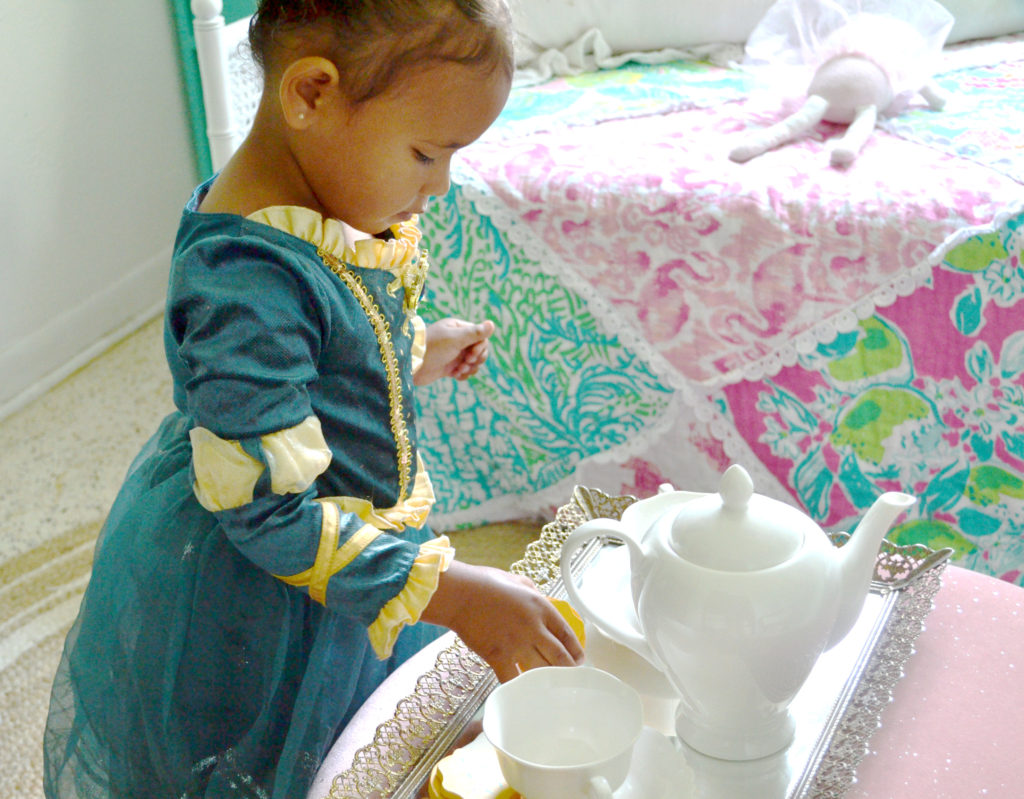 I hope you all love it as much as I do! I'm so excited to see what everyone else did for the challenge this week!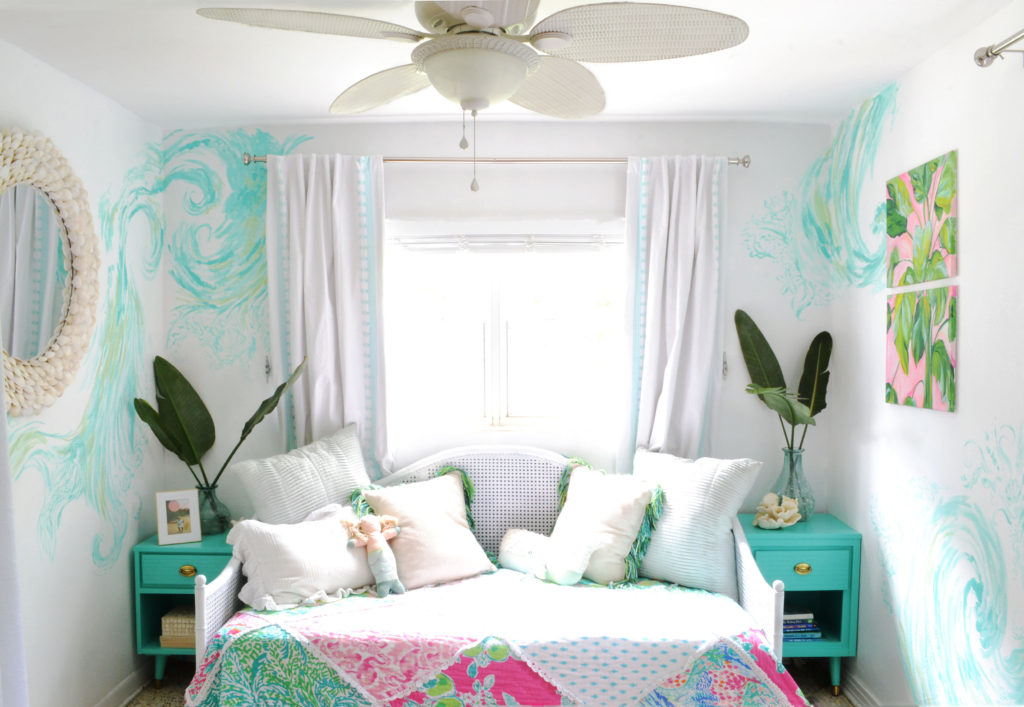 If you want to check out what the room looked like before, check out the original guest bedroom here! And then if you want to see what it looked like as our daughter's tropical nursery, check that out here!
Make sure to check out what the other participants are up to here! This is the most exciting week, I could scroll for hours looking through all of the final looks- everyone is just so talented!!
Don't forget to follow along with me on Instagram!
Have a great week!